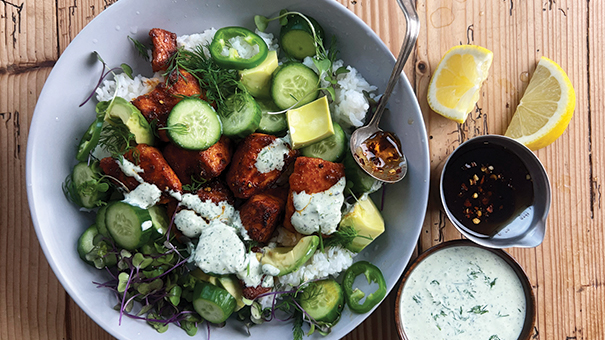 Published: September 28, 2023
By: Recipe and Photo by Susan Rosser
Elevate a simple dinner with a layered bowl and an herby ranch dressing
I can pretty much re-brand any dinner into a bowl concept and my family will be over the moon. If I tell them we are having salmon for dinner, they will saunter away underwhelmed.
When I tell them sweet and smoky salmon bowls are on the menu, it's a whole different story.
Throw in a homemade condiment like a super garlicky and herb-forward ranch dressing and they might even set the table without being asked.
Recipe and Photo by Susan Rosser
Salmon Bowls
Sweet & Smoky Salmon Bowls with Homemade Herbalicious Ranch
Ingredients:
(serves 4)
For the Bowls
4 cups cooked rice
2 pounds skinless salmon, cut into 1-inch cubes
1 avocado, sliced
3 or 4 Persian cucumbers, sliced
1 jalapeño, sliced (optional)
1-2 tablespoons olive oil
2-3 scallions, sliced for serving
1-2 tablespoons hot honey, such as Mike's (*see note)
Kosher salt and freshly ground black pepper to taste
For the Salmon Seasoning
1 tablespoon smoked paprika
1 teaspoon garlic powder
1 teaspoon onion powder
1 teaspoon kosher salt
1/2 teaspoon black pepper
For the Ranch Dressing
3/4 cup sour cream, more as needed
2-3 garlic cloves, peeled
1/4 cup fresh chives, chopped
1/2 cup of a fresh leafy herb like parsley, dill or cilantro, chopped
1/2 cup store-bought mayonnaise, preferably Hellmann's or Duke's
1-2 tablespoons fresh lemon juice
1 teaspoon kosher salt
1 teaspoon coarsely ground black pepper
Preparation:
• To make the dressing, place all the ingredients into a food processor or blender and process until smooth — taste for seasoning and adjust as needed. Serve immediately or keep
in a covered container in the refrigerator for up to 3 days.
• Preheat the oven to 425 degrees. Toss the salmon with the seasoning (you might not need all of it) and olive oil. Place the salmon in a single layer on a rimmed sheet pan. Bake until the salmon is cooked through, about 10-15 minutes. Remove the salmon from the oven and drizzle with the honey. Turn the
oven to broil and place the salmon under the broiler for a minute to caramelize. Keep an eye on it so it doesn't burn.
• Place a serving of rice in each bowl. Arrange the salmon, cucumbers and avocado over the rice. Drizzle the ranch and serve more on the side. If you're fancy, garnish with herbs and scallions. The family cook can compose the bowls, or let older kids arrange their own. There is a food stylist in all of us.
(Idea: You could swap salmon for boneless chicken or shrimp. Cooking times will vary.)
Note: You can make hot honey by heating 1 cup of honey and
2-3 tablespoons of hot red pepper flakes in a small saucepan
over medium-low heat. Cook for about 2 minutes.