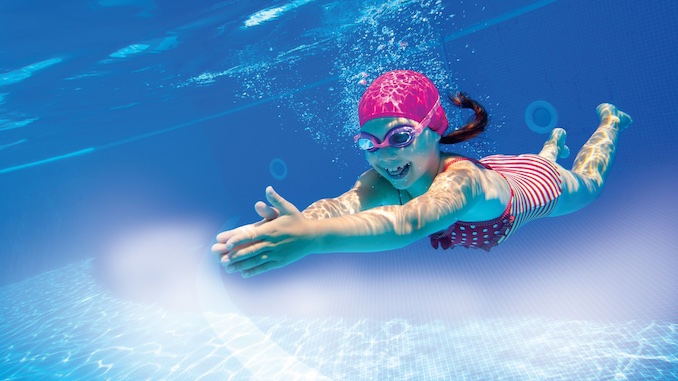 From water parks and spray grounds to Jurassic Splash and a Beach Bash, there are many refreshing ways for you and your family to beat the heat this summer. Here are some of our top picks.
Published: June 1, 2023
Broward County
Movie Splash Down – As the sun goes down, the fun ramps up at the Movie Splash Down on Friday, June 9 at Bass Park in Fort Lauderdale. The entire family can enjoy a night of fun while watching an outdoor screening of Sonic the Hedgehog by the pool. The free event takes place from 7 to 9 p.m. at 2750 NW 19 St. For more information, visit http://www.fortlauderdale.gov.
Splashtacular Friday – Have a cool time with the kids at this Castaway Island Water Park event on Friday, June 16 with water-themed activities, games and music. Open to all, the cost is $7 per person for those ages 13 months and older. Castaway is located at T.Y. Park at 3300 N. Park Rd. in Hollywood.
Jurassic Splash – Have dino-sized fun at this nighttime water park event on Friday, June 23 at Splash Adventure. Activities are scheduled from 6 to 9 p.m. at 401 S. Powerline Rd. in Deerfield Beach. The cost is $7.50 per person.
If you can't make it to the Splashtacular or Jurassic Splash, the Broward County Parks Department has four fabulous water parks to choose from with general admission all summer long — C.B. Smith's Paradise Cove, Quiet Waters' Splash Adventure, T.Y. Park's Castaway Island and Central Broward Park's Tropical Splash. You can venture out for a  single day or purchase a season pass to return all summer long. Visit http://www.broward.org/parks for details.
Miami-Dade County
Summer Pool Party – Celebrate the return of summer with swimming, food and fun at the Miami Springs Aquatic Center from noon to 5 p.m. Sunday, June 4.
The cost is $7/adult resident, $5/child resident, $12/adult non-resident, $7/child non-resident. The event takes place at 1401 Westward Dr. in Miami Springs. For information, go to http://www.miamisprings-fl.gov.
Beach Bash – Dive into family fun on Sunday, June 11 while celebrating the anniversary of Sunny Isles Beach. The evening event includes live music, food, and a drone show from 6 to 10 p.m. at Samson Oceanfront Park, 17425 Collins Ave. in Sunny Isles Beach. See http://www.sibfl.net for details.
Make Some Waves – Touted as one of the largest cable and wakeboard parks in the United States, Miami Watersports Complex offers wakeboarding, waterskiing, wakeskating, kneeboarding, boating, and an aquapark with 35 water features. It's an opportunity to try something new or sign up for a lesson to improve your skills. Visit http://www.miamiwatersportscomplex.com.
Palm Beach County
Dive-In Movies – With 35 water slides ranging from mild to wild, Rapids Water Park has something for everyone, including a meandering Lazy River and the breathtaking Raging Rapids. As an added bonus, Rapids will host Dive-In Movies every Friday night in July when you can float around the Big Surf Wave Pool or lounge in a beach chair while watching a featured film. Dive-In Movies are included with paid park admission. Rapids Waterpark is located at 6566 N. Military Trail in Riviera Beach. For more information, visit http://www.rapidswaterpark.com.
Safari Splash – Experience a safari South Florida style by driving through a four-mile stretch filled with large herds of animals roaming in naturalistic habitats. At the end of the trek, the kids can keep cool at the Safari Splash Sprayground which includes 23 different water features, free fall and loop water slides, and an interactive play area with water sprayers and dump buckets. The Sprayground is included in the price of admission. Lion Country Safari is located at 2003 Lion Country Safari Rd. in Loxahatchee. To learn more, visit http://www.lioncountrysafari.com
Splash Into Storytime – Little minnows ages 5 and under can listen to a water safety story followed by open-play at the Splash Zone every Tuesday morning (except for the Fourth of July) through August 1 at the Palm Beach Gardens Aquatic Complex. Book titles include, Llama Llama Learns to Swim and Becket Beaver Learns About Pool Safety. The event starts at 9 a.m. at 4404 Burns Rd. The cost is $3 per resident and $5 for each non-resident. Visit http://www.pbgfl.com.