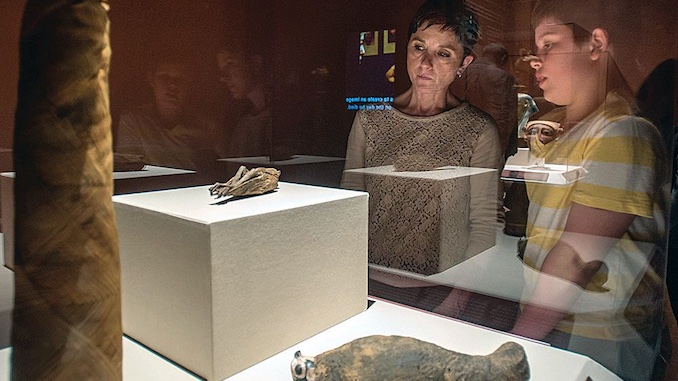 Mummies of the World: The Exhibition at the Phillip and Patricia Frost Museum of Science
Published: June 1, 2023
Baron Von Holz, a German nobleman found tucked away in the family crypt of a 14th-century castle, and Nes-Hor, an Egyptian priest, are two of the mummies you will see at Mummies of the World: The Exhibition at the Phillip and Patricia Frost Museum of Science.
On display through September 4, the exhibit is the largest touring collection of mummies ever assembled, featuring the mummified remains of 40 real humans and animals and an additional 80 rare artifacts. The exhibit is designed to provide fascinating details about the lives of ancient people from around the world — including Europe, South America and ancient Egypt — and insight into past cultures and civilizations.
Through hands-on activities and the viewing of mummies, museum-goers will discover the natural processes of mummification, and gain knowledge of how computed tomography, DNA analysis and radiocarbon dating are used by researchers to learn who these people — and animals — were.
Mummies of the World is open to all, however, due to the sensitive nature of the display, Frost has provided an online family guide that offers suggestions when visiting with a child. All children under the age of 12 must be accompanied by an adult. Frost recommends that parents become familiar with the exhibit and content before deciding if it's suitable for their children.
The Phillip and Patricia Frost Museum of Science is located at 1101 Biscayne Blvd. in Miami. Admission to Mummies of the World: The Exhibition is included with all museum admission tickets. For more information, call 305-434-9600 or visit http://www.frostscience.org.