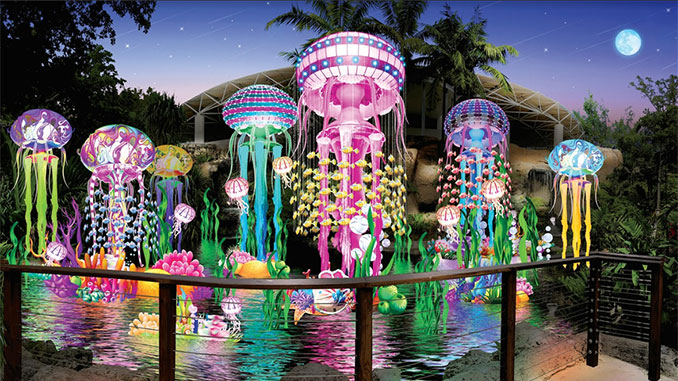 When you hear the word "luminous," "jungle" is probably not the first thing that pops into your mind. Jungle Island's radiant new exhibit may just change that.
Through Jan. 8, 2020, Luminosa Festival of Lights illuminates the nighttime jungle with 34 giant, beautifully intricate lantern exhibits, glowing with over 1 million LED lights and handcrafted by Chinese artisans out of 11 miles of colorful silk. Towering flowers, striking silk parrots, a sea of glowing jellyfish, the world's rarest animals — and a distinctive Miami flair — are all aglow in the installation. 
A journey through light across 13 of the Miami eco-adventure park's 18 acres, Luminosa's magical story transforms from the jungle's natural wonders into the Magic City's vibrant urban art identity — a panoramic interpretation of an iconic Wynwood destination and a South Beach art deco scene decked out in Chinese graffiti art.
"Luminosa at Jungle Island is certain to be one of the most Instagram-worthy and talked-about events of the season," says Curtis Crider, Jungle Island's general manager. "Between the rich history behind the festival and its beautiful pageantry within a jungle-like setting, this must-see installation is a celebration of two cultures coming together and the rebirth of an iconic South Florida attraction." 
Jungle Island is at 1111 Parrot Jungle Trail. Tickets are $35.95/adult and $30.95/child. For more information and a 20-percent discount on tickets, visit www.jungleisland.com