Region: Broward County School Type: After-School Program Activities & Classes: Activities & Enrichment Classes, Childcare - Afterschool Care, Education Resources, STEM, Tutoring & Testing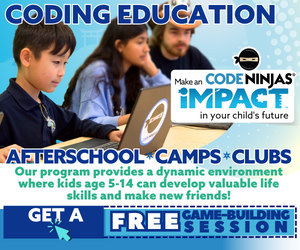 At Code Ninjas, we believe that coding is the language of the future, and every child deserves the opportunity to become a master of it. As a leading global coding education franchise, we are dedicated to empowering young minds aged 5-14 with essential coding and STEM skills in a fun and engaging environment.
Our curriculum is built around a game-based learning approach that captivates children's attention while fostering creativity, problem-solving, and critical thinking. With a blend of individual instruction and collaborative projects, our Code Senseis guide students through each level, ensuring personalized attention and support.
We offer a wide range of programs suitable for every skill level, from beginners to advanced coders. Kids gain proficiency in programming languages like Scratch, Python, JavaScript, and more, as they develop their own interactive games, apps, websites, and robotics projects.
Our flexible schedules, including after-school and weekend classes, cater to busy families, and our camps during school breaks offer extended learning opportunities.
Join the Code Ninjas community and witness the transformation in your child's abilities as they gain invaluable digital literacy skills and a passion for technology. Whether they aspire to be the next software engineer, game developer, or tech entrepreneur, Code Ninjas equips them with the skills needed to thrive in the digital age.
Address: 1374 SW 160th Ave Weston, FL 33326
Phone: (954) 727-8797
Phone 2: (954) 727-1156
Open House: Yes, please join us!
Open House Start Date: September 9, 2023
Open House End Date: September 30, 2023
Year Established: 2016
Beginning Grade Taught: Kindergarten
Ending Grade Taught: 9th Grade
Day Care Service Offered: Yes
Location:
---