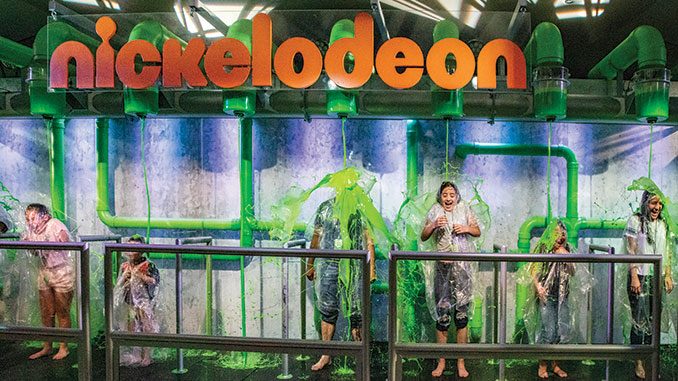 If your kids end up getting slimed in the next month or so, don't say we didn't warn you.
That's because two events are turning South Florida into Slime Central: Slime City Miami, a Nickelodeon pop-up experience at Aventura Mall through Jan. 20, and Maddie Rae's Slime Bash Miami at Miami Airport & Convention Center, Feb. 29-March 1. 
SLIME CITY MIAMI: The beach-themed, 20,000-square-foot installation lets kids get up-close and slimey with the iconic green goo popularized at Nickelodeon's Kids' Choice Awards. For example, they can get the stuff dumped on them (with a poncho to protect their clothes), make shapes or impressions in the Great Wall of Slime, and in the Slime Lab, create their own and take it home (for an add-on ticket).
Tickets, which must be purchased in advance, cost $30/weekdays, $35/weekends and holidays. Children under 2 are free. Children of all ages must be accompanied by a ticketed adult, and signed liability waivers are required. Slime City Miami is open Mondays, Wednesdays, Thursdays and Sundays, noon-8pm; Fridays, noon-9:30pm; and Saturdays, 10am-9:30pm. 
Aventura Mall is at 19501 Biscayne Blvd. For more information and to purchase tickets, visit www.nickslimecity.com 
MADDIE RAE'S SLIME BASH MIAMI: Billed as the original and world's largest slime event, this convention is designed to attract thousands of "slimers" from around the world. When they get here they'll be able to make one-of-a-kind slime in slime-making pits; participate in slime contests for slime-making and slime acrobatics; meet and take pictures with slime celebrities; buy and trade slime in Slimer Alley; and make their mark on the Great Wall of Slime. There will also be continuous live stage entertainment throughout the weekend and the new Maddie Ray Fun Zone. 
Of course, the Maddie Rae behind Slime Bash is the teen slime celeb and entrepreneur who set the world's record a couple of years ago for making the world's largest slime — 13,820 pounds worth!
Five ticket packages range from the single-day Sunday price of $20 to the Mega Bash Pass of $95 for both days. Hours are 10am-4pm Feb. 29 (or 9am with early-access ticket package) and 9am-3pm March 1. The DoubleTree Miami Airport & Convention Center is at 711 NW 72 Ave. For more information and to purchase tickets, visit www.slimebash.com