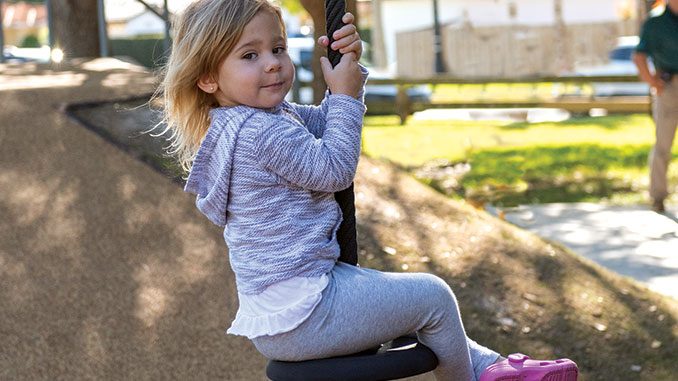 A new nature-inspired playground is putting some zip in the outdoor play of southwest Miami-Dade's kids. Not only can they climb, run, swing and take a nature walk at Serena Lakes Park — they can take a thrilling ride on a zip line, too.  
The new 10,000-square-foot playground includes a play set designed for children ages 5 to 12 that features an 80-foot zip line with its own safety surface mound, as well as an ADA-compliant bridge climber/crawler and an airplane slide. There's also a separate swing set with an infant seat and nature-themed toddler riders. 
For park-goers who want to take a little nature break, the playground is surrounded by a new walkway integrated with gardens of butterfly-attracting native plants, shade trees and park benches. The 5.14-acre park also contains a picnic shelter. 
Serena Lakes is just the most recent example of Miami-Dade Parks effort to introduce more nature-inspired playgrounds. In the Kendall area, Devon Aire Park and Forest Lakes Park both opened similar playgrounds in recent months. 
"Playgrounds like this are encouraging more kids to get outdoors for a daily dose of enriching, active play and green time and are helping them learn to appreciate nature," said Miami-Dade Parks Director Maria I. Nardi. 
Serena Lakes Park, at 13965 SW 180 St., Miami, is open sunrise to sunset. For more information, call 305-254-5856 or visit www.miamidade.gov/parks/serena-lakes.asp.