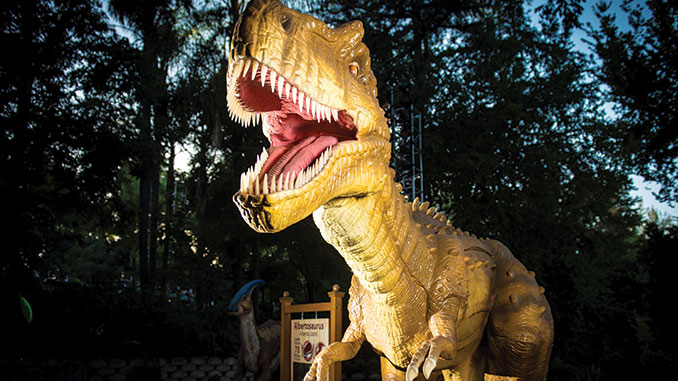 You may feel the ground shake this month in downtown Fort Lauderdale. It won't be an earthquake making that ripple in your coffee cup, though. It'll be… gulp… dinosaurs!
Life-size and lifelike, animatronic prehistoric creatures will be stomping around the Museum of Discovery and Science as part of its new traveling exhibit, "Expedition: Dinosaur!" Presented by Joe DiMaggio Children's Hospital, the exhibit will run through May 25.  
Engaging and educational interactive experiences will complement the thrills of young museum-goers as they marvel at the realistic movements and sounds of a velociraptor, stegosaurus, triceratops and other mammoths of the Mesozoic Era. Dinosaur movement, digestion and evolution will be showcased, as will the life and methods of fossil hunters dating back to the 1800s. 
Interactive highlights include a dinosaur egg scanner, dinosaur dig, dino operation game, digital sandbox, paleontologist camp, interactive fossil viewing boxes, and an interactive robot that allows visitors to manipulate dinosaur eggs. 
"Fascination with prehistoric life never goes extinct," said Joseph P. Cox, president and CEO of MODS. "'Expedition: Dinosaur!' provides the opportunity to explore and connect with these fossilized creatures from the past through today's technology and modern STEM applications."
In conjunction with the exhibit, the museum will present monthly "Roar & Explore Weekends" that let visitors travel back in time with a MODS Dino Keeper on a 30-45-minute guided quest, assemble a dinosaur skeleton with augmented reality, make model fossils and attend a Scales & Slime reptile show. The weekends are 10am-5pm on Feb. 15-16, March 7-8, and April 25-26.
The museum is at 401 SW Second St. For more information, please visit www.mods.org.