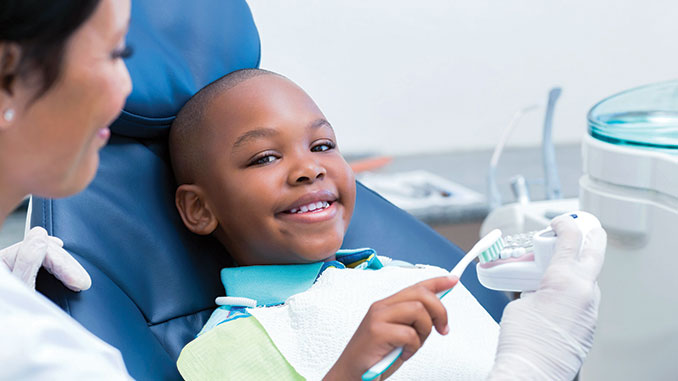 When it comes to kids, the importance of their health and wellness ranks as a top priority. South Florida Family Life readers voted for their favorite children's health facilities, pediatricians, dentists and more to keep their kids happy and healthy.
Published: June 26, 2023
Favorite  Special Needs Program
Broward: David Posnack JCC Giborim Program
Every adventure needs a hero, and that's where Giborim, translated to heroes in Hebrew, comes into play. Camp Giborim, for boys and girls ages 3-22, is a special needs program that provides interactive experiences for campers with autism, down syndrome, developmental delays and other disabilities. Camp options include in-house activities, field trips, special events, an inclusion program and more. David Posnack Jewish Community Center, 5850 S. Pine Island Rd., Davie, 954-434-0499
Miami-Dade: S.T.A.R.S. Autism School
Designed specifically for children on the autism spectrum, S.T.A.R.S. (Support The Autism Road to Success) facilitates learning through adapted classroom environments, a multi-sensory room, multi-disciplinary therapy rooms, an enclosed outdoor play area, music garden, enrichment programs, nutritional support and more. The goal is to prepare its student population to emerge as independently as possible to meet the challenges of community life. 10870 SW 113 Place, Miami, 305-846-9346
Palm Beach: Sugar Sand Park
Sugar Sand Park hosts Sensory-Friendly Saturdays, for kids ages 5 and up, the first Saturday of every month. The event gives families an opportunity to explore the museum in a sensory-modified setting with sound and lighting adjustments. Another must-see at this vast venue is the inclusive playground. Open seven days a week, from 8 a.m. to sunset, the play space features wheelchair accessible swings, slides, sensory walls and an expanded climbing structure for all ages and abilities. There is also a splash pad for cool, watery fun. 300 S. Military Trail, Boca Raton,
Favorite Special Needs Provider
Tri-County Winner: Nicklaus Children's Hospital
It's a trifecta for Nicklaus Children's Hospital, with three locations earning the top spot as a special needs provider in the tri-county area. Nicklaus Children's Dan Marino Outpatient Center in Weston, Nicklaus Children's Hospital in Miami and Nicklaus Children's Palm Beach Gardens Outpatient Center have all received top-rated, parent-approved status. Each location offers a variety of specialized assessments and services, resources and treatment plans for infants, children and teens.
http://www.nicklauschildrens.org
Favorite  Pediatrician
Tri-County Winner: Pediatric Associates
With more than 200 providers and 34 locations throughout the state, this privately-owned pediatric practice keeps kids happy and healthy by providing high-quality care 365 days a year. Physicians provide a range of comprehensive services from check-ups and screenings to on-site laboratories and x-rays at select locations. Pediatric Associates also offers informative virtual and in-person workshops for parents, such as Baby's Nutrition, Basic CPR and a New Parents Class. Various locations, 855-297-6164
http://www.pediatricassociates.com
Favorite Urgent Care Center
Broward: Memorial Urgent Care Center
Providing quality care for common illnesses and injuries, Memorial Healthcare System's urgent care centers in Hollywood and Pembroke Pines are a top choice for parents seeking convenient and fast non-emergency services. Treatment is provided for adults and children ages 5 and older for conditions ranging from fever and flu to minor stitches, simple sprains and sports injuries. Patients can walk in or book an appointment. Locations are open seven days a week.
Miami-Dade: Baptist Health Urgent Care
For safe and convenient care whenever the kids need it, Baptist Health Urgent Care is standing by to provide same day service at multiple locations in Miami-Dade County and throughout the tri-county area. As one of the largest urgent care networks in the region, Baptist Health handles a variety of patient needs including illnesses and injuries, medical procedures, physicals, lab tests, screenings, immunizations, vaccines and more. Facilities are open seven days a week, with extended evening and weekend hours.
Palm Beach: After Hours Pediatrics Urgent Care
Because illness and the need for urgent care can strike at any hour, After Hours Pediatrics' doors are open every day — holidays included — to provide quick medical care for babies up to age 21. A staff of board-certified pediatricians, physician assistants and advanced practice registered nurses provide high-quality illness and injury treatment and work closely with each child's pediatrician to ensure appropriate follow-up care. The facility also provides in-house digital x-rays and on-site laboratory services. Locations in Palm Beach County and Oakland Park.
http://www.afterhourspediatrics.com
Favorite Maternity Hospital
Broward: Broward Health Medical Center The Maternity Place
Delivery day is a big deal, and so is deciding where that momentous occasion will be. Many expectant parents choose The Maternity Place at Broward Health Medical Center for its high-quality care and maternity team that is dedicated to the health and care of expectant moms, babies and families. Highlights include private labor and delivery suites, lactation support, in-house specialists, a perinatal intensive care center, a 24-hour level III neonatal unit and more. 1800 NW 49 St., Fort Lauderdale,
Miami-Dade: Baptist Health
The maternity team at Baptist Health South Florida believes in making motherhood a joy, and they achieve this by creating a family-centered atmosphere that encourages family involvement in the birthing experience. Physicians work with expectant parents to design a birth experience expectant parents want in a facility that provides access to highly skilled experts and advanced technology. Neonatologists are available 24 hours a day and a specialized OB emergency department provides care around the clock, should the need arise. Maternity services are offered in multiple Miami-Dade locations.
Palm Beach: Boca Raton Regional Hospital
Staffed by dedicated professionals, the Toppel Family Place at Boca Raton Regional Hospital, strives to provide families a loving and healthy start in life. Birth experiences include beautifully decorated labor and delivery rooms, private suites with modern comforts, security safeguards, a level II NICU unit, and an around-the-clock board-certified neonatologist and anesthesiologists. Maternity classes, events and support groups include Boot Camp for New Dads, Hypnobirthing, Basics of Baby Care, Breastfeeding Education and more. 800 Meadows Rd., Boca Raton, 561-955-7100
Favorite Pediatric Dentist/Orthodontist
Broward: Dr. Amanda Buscemi, SuperSmiles Kids Dental & Orthodontics
Dr. Buscemi, a board-certified pediatric dentist with a highly-regarded Diplomate status, is recognized for making the dental experience comfortable for both patients and parents. Providing exceptional care in an inclusive environment, Dr. Buscemi has specialized training in advanced behavioral management techniques and treating children with sensory issues. SuperSmiles is conveniently located in the Plantation Promenade Plaza, Plantation Fountains Plaza and in East Plantation.
http://www.supersmileskidsdental.com
Miami-Dade: Miami Children's Smiles
With more than 20 years of experience, Dr. Gabriela Asensi is a well-recognized, esteemed member of the pediatric dental community, and a popular pick amongst families. Services include sedation-free and sedation dentistry, orthodontics, infant visits, preventative care, special needs dentistry, emergency dental care and more. Offering high-level, advanced technology, Miami Children's Smiles also offers Solea, a CO2 laser system that replaces the traditional dental drill. 3850 Bird Rd., Ste. 301, Miami,
http://www.miamichildrensmiles.com
Palm Beach: Kids United Pediatric Dentistry
At Kids United, children watch their healthy practices contribute to causes through the Play It Forward program, which allocates a donation toward underfunded parts of the world for every cavity-free checkup. That is just one of the reasons Dr. Craig Lustman and the team at Kids United are a favorite pediatric dental office, as well their patient-first approach, knowledge, and professionalism in providing a wide-range of dental services. 8903 Glades Rd., Boca Raton, 561-483-9334
http://www.kidsunitedsmiles.com
Favorite Pediatric Hospital
Broward: Joe DiMaggio Children's Hospital
A leader in providing expert pediatric healthcare, Joe DiMaggio Children's Hospital hits a homerun with families in South Florida. Established in 1992, the Hollywood facility recently expanded, doubling its size from four floors to eight, to meet Florida's increasing pediatric healthcare needs. Treating everything from minor illnesses to complex medical conditions, the hospital is staffed 24-hours a day by a world-class team. The Power of Play is the hospital's theme – evident in the hospital's whimsical décor and patient activities — a philosophy that emphasizes the importance of play in children's lives and helps to reduce fear and anxiety. 1005 Joe DiMaggio Dr., Hollywood, 954-265-5324
Miami-Dade: Nicklaus Children's Hospital
Since 1950, the pediatric professionals at Nicklaus Children's Hospital have made it their mission to inspire hope and promote lifelong health by providing top-notch care to every child. The 309-bed pediatric specialty hospital (formerly called Miami Children's Hospital) has approximately 800 attending physicians and more than 500 subspecialists, ready to treat the most complex of cases. The hospital is also the largest pediatric teaching program in the southeastern United States. 3100 SW 62 Ave., Miami, 305-666-6511
http://www.nicklauschildrens.org
Palm Beach: West Boca Medical Center
A trip to the emergency room can be overwhelming to little ones, which is why West Boca Medical Center has dedicated space to a pediatric emergency room, pediatric intensive care unit and the only inpatient pediatric department in Boca Raton. The team here provides specialized care to treat an array of conditions in children from minor to severe, while keeping parents informed every step of the way. Inpatient and outpatient pediatric rehabilitation services such as physical therapy, occupational therapy and speech therapy are also available. 21644 State Road 7, Boca Raton, 561-488-8000