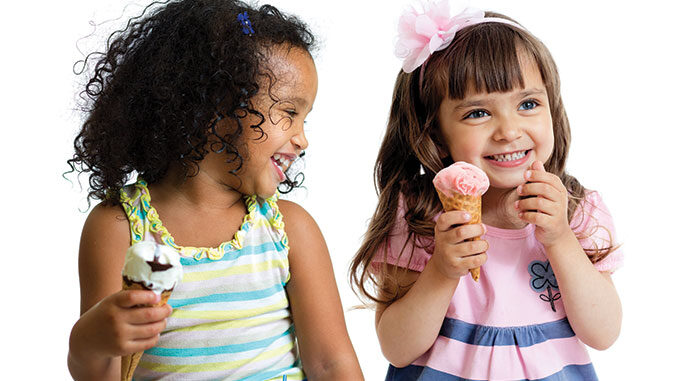 For a munch or a meal, here's where to take your hungry tribe
Published: June 28, 2022
From frozen treats to healthy food spots, South Florida Family Life readers can't say enough about their favorite places to dine with their families. 
Favorite Place for Frozen Treats
Broward: Jaxson's Ice Cream Parlour & Restaurant
When your kids scream for ice cream, this is the place that'll stop them. You can get a killer cone from the walk-up window or take a seat in the dining room and get everything including The Kitchen Sink — Jaxson's signature creation that scoops up a pound of ice cream per person in a metal sink and tops it with treats and sparklers. With about 40 regular flavors and a handful of seasonal flavors, the ice cream, sorbets, yogurts and toppings are prepared daily. Portions are super-sized, too.
128 S. Federal Hwy., Dania Beach
954-923-4445
http://www.jaxsonsicecream.com 
Miami-Dade: Cold Stone Creamery
Cold Stone is not like other ice cream parlors. Its specialty is made specifically for you. Churned fresh in-store, each flavor is mixed before your eyes with your choice of candy, cakes, fruits or nuts on the frozen granite stone from which its name is taken. Plus, ice cream, ice cream cakes, shakes and other frozen treats can be ordered online for pickup or delivery. There are six locations in Miami-Dade.
http://www.coldstonecreamery.com
Palm Beach: Menchie's
Menchie's takes its frozen yogurt seriously. It employs an innovative research and development team to come up with different flavors every month so that there's always some new taste sensation to try — including unique items like custom frozen yogurt cakes. Having fewer calories than ice cream doesn't hurt, either. There are locations in Boca Raton, Delray Beach and Lake Worth.
Favorite Healthy Food Spot 
Tri-County Winner: First Watch
Avocado toast, anyone? A family favorite from West Palm to Miami, this daytime-cafe chain has mushroomed with a food ethos that follows the sun for fresh, seasonal ingredients. Breakfast, brunch and lunch are baked, sliced and juiced up for a full menu of dishes with healthy portions and healthful ingredients. Kids will go for specialties like the fruit crepe or chocolate chip pancake. There are over 20 South Florida locations.
Favorite Farmers Market
Broward: Yellow Green Farmers Market
It's been called the Taj Mahal of farmers markets, but just calling it a farmers market doesn't tell the whole story. Sure, there's lots of farm-fresh food, but with over 30 categories of booths in this open-air space, it's more like a big, community-minded bazaar. There are artisanal crafts, live music, yoga, art and dance classes, and four 30-foot-high Seminole Chickee huts for outdoor
seating.
3080 Sheridan St., Hollywood
954-513-3990
http://www.ygfarmersmarket.com 
Miami-Dade: Coconut Grove Farmers Market
Though it features about two dozen other vendors, this year-round Saturday haunt is probably best known for its Glaser Organic Farms tent, which specializes in healthful foods — or as its purveyors call it, "food that loves you back." A variety of organic fresh fruits, vegetables, grains, seeds and raw vegan foods are sourced from local growers and from around the world. Epicurean delights from a salad bar to raw food pizzas and fruit pies are also available.
3300 Grand Ave., Coconut Grove
http://www.glaserorganicfarms.com
Palm Beach: Bedner's Farm Fresh Market
One of the few remaining family-owned and -operated farmers markets in South Florida, the Bedner family isn't kidding about the "farm fresh" part. Their produce is grown on the farm, right outside the back door — which, good to know, doesn't use genetically modified seed. Field trips to the Boynton Beach farm come with tractor rides and a petting zoo. There are also locations in Delray Beach and West Palm Beach.
10066 Lee Rd., Boynton Beach
561-733-5490
Favorite Family-Friendly Restaurant
Broward: Jaxson's Ice Cream Parlour & Restaurant
This Broward institution is best-known for the frozen concoctions it's been scooping up from the same, family-owned location since 1956, but it's got a lot more than ice cream going for it. There's a rustic dining room with license-plate-deco walls and a full menu that features belly-busting specialties like the Titanic Burger with three half-pound patties and the half-pound Mile-Long Dog made exclusively for Jaxson's. Each of the seven offerings on the kid's menu comes with fries and a kid-sized milkshake, ice cream sundae or cone. There's also a Country Store with novelty toys, retro knick-knacks and penny candy.
128 S. Federal Hwy., Dania Beach
954-923-4445
http://www.jaxsonsicecream.com
Miami-Dade: Flanigan's
In South Florida's ever-changing dining landscape, Flanigan's is as constant as an ocean breeze. From its 1959 founding by Joe "Big Daddy" Flanigan, it has evolved into a group of 24 laid-back neighborhood restaurants with an island vibe. The star of the menu is the Legendary Baby Back Ribs — a four-bone rack is even available on the kids menu. There are eight Miami-Dade locations.
Palm Beach: TooJays Deli
Launched on Palm Beach in 1981, TooJay's is still dishing out authentic gourmet deli classics with a big side of hospitality. The menu features hearty portions of homemade comfort foods, handcrafted sandwiches and made-from-scratch soups, salads and baked goods. Kids menu offerings come with a mini black-and-white cookie and a choice of two sides for lunch or dinner, and there's a kids breakfast menu, too. There are eight Palm Beach County locations.