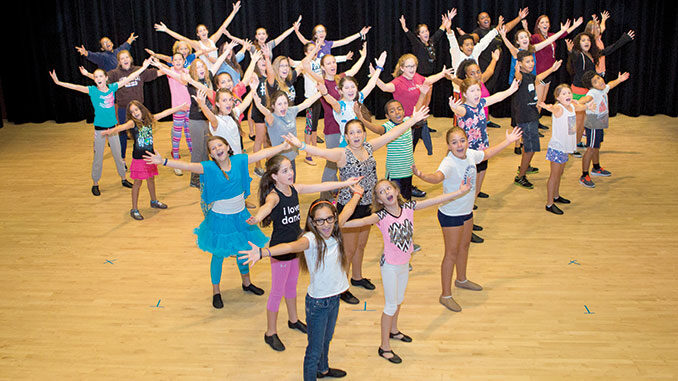 Fun times and educational options for the kids
Published: June 29, 2021
Favorite Indoor Playground for Little Ones
Broward/Palm Beach:
Off the Wall
When the kids are feeling cooped up, let them unleash their energy at a place where bouncing off the walls is not only allowed, but encouraged. Off the Wall features massive indoor trampoline courts, dodge ball, music, laser tag, virtual reality, arcade games and a full menu restaurant for the whole family to enjoy. If your child has a need for speed, check out the Crazy Cars at the Coconut Creek location that twist, turn and zip around at an incredible speed. Got a gymnast on your hands? In Davie, kids can explore their inner circus performer while swinging on a trapeze over a bed of giant foam cubes. Locations in Davie and Coconut Creek.
WowMoms World
Close your eyes and imagine yourself sipping on a strawberry shortcake smoothie, indulging in a relaxing facial or shaking things up with a salsa lesson while baby plays quietly nearby. This is not a dream. It's WowMoms World, a facility that caters to little ones and parents alike. The locale offers 50-minute, nanny-led infant and toddler playtime sessions while mom can playfully participate or opt for some self-pampering. There are also dance, music, art and gymnastics classes for kids up to 7 years old and swimming lessons, too. The on-site cafe boasts healthy snacks like avocado toast, protein plates and vegan muffins, and WowMe services for mom include eyelash extensions and facial fillers.
2902 N. University Dr., Coral Springs
Miami-Dade:
Sky Zone
With Skyslam Basketball, Parkour Blox, a Foam Zone, Dodge Ball, Silks and more, this is not your average trampoline park. All ages can bounce, skip and sail on the freestyle jump trampolines or participate in one of the specialized activities. A separate area designated for toddlers only has a padded seating section for parents to provide support if needed. There's also a Little Leapers session designated exclusively for kids ages 5 and under, giving them free run of all the open courts in the gym. Anyone older than the age of 5 is not allowed to jump during this time. Locations in Cutler Bay and Doral.
Favorite Arts Program
Broward/Palm Beach:
Broward Center for the Performing Arts
Aspiring performing artists from pre-K through adult can learn the fundamentals of singing, acting and dancing from the professionals at BCPA. The all-encompassing classes also teach disciplines such as costumes, props, make-up and staging and culminate with a stage performance. Not only is this Fort Lauderdale-based theater a local Family Favorite, but at the time of press, the venue was nominated by Pollstar for the Theatre of the Decade Award. BCPA was recognized as one of the Top 10 venues of its size in the world for the ninth consecutive year in 2019, the most recent award year.

201 SW Fifth Ave., Fort Lauderdale
Miami-Dade:
Adrienne Arsht Center
From camps and classes to field trips and family-friendly performances, the Adrienne Arsht Center is beloved by families for its vast amount of programming for all ages. In an effort to engage younger generations in the arts, the center provides educational programming and outreach efforts to local schools and the community. Every fifth-grade class in Miami-Dade County Public Schools is invited to experience a live performance of a comedic rock musical each year, while AileyCamp Miami offers a series of free, six-week camps for 100 teens. The Performing Arts Center also offers Family Fest, a free program open to the public featuring performances by award-winning musicians and renowned performing artists. There is also a large variety of fee-based shows, workshops and experiences for kids scheduled throughout the year.
1300 Biscayne Blvd., Miami
Favorite Indoor Destination for Older Kids
Broward/Palm Beach:

Dave & Busters
It's a simple fact: kids love video games. And Dave and Busters' million-dollar midway certainly fulfills that passion with classics like Pop-A-Shot, Pac-Man and Skee-Ball and more modern games like Terminator Guardian of Fate and Star Trek: Dark Remnant. Everyone can have some fun trying to score big and earn prizes while playing the redemption games, or by checking out a simulator experience just for fun. If you can get the kiddoes there mid-week, games are half price every Wednesday from open to close. If the troops get hungry, which teens especially tend to do, there's a full-service restaurant offering burgers, wings and more.
3000 Oakwood Blvd., Hollywood
Miami-Dade:

Topgolf
The world is evolving and so has the game of golf. Not only does Topgolf use micro-chipped golf balls and technology to track shots, but now they've incorporated new, interactive games into the mix. Families of all ages and skill levels can play golf Angry Bird style at the Doral location with flyovers, themed targets and other visuals. Topgolf features a number of other point-scoring game challenges for beginning to advanced players, and also offers lessons, classes, coaching and a Summer Academy for kids. Locations in Doral and Miami Gardens.
Favorite After School Program
Broward/Miami-Dade:

YMCA of South Florida
For some kids, boredom sets in the second the bell rings and the school day ends. This is where the YMCA steps in, providing after-school activities and programs for kids to continue to learn, grow and thrive. Programs designed to empower youth and build academic and creative abilities take place at a variety of community locations throughout Broward and Miami-Dade. Enrichments include swimming, Y-Fit, sports, STEM and the arts. Supplemental care is also offered with eLearning support and supervision, homework assistance and computer navigation. Programs vary and are offered on a first-come basis for children in grades K-5 or K-8.
Favorite Party Place
Broward/Palm Beach:

Xtreme Action Park
There are many ways to party in this 200,000+ square-foot space that houses go-kart racing, bowling lanes, an arcade game room, a ropes course adventure, trampoline park, roller skating rink, escape room, laser tag and the  All American Cafe. Xtreme Action Park is home to South Florida's longest and fastest indoor kart track, with European gas-powered karts that reach speeds up to 45 mph on a half-mile poured asphalt track. Birthday party packages can be customized by incorporating one, or all, of the guest of honor's favorite games and activities. Parties come with pizza and soda and some include a private event room.

5300 Powerline Rd., Fort Lauderdale
Sip and Sparkle
Celebrate in style with in-studio parties that focus on glitz and glam with princesses, makeup tutorials, cookie decorating, face painting, Henna art and more. For those who would rather party at home instead of stepping into the studio, Sip and Sparkle hosts off-site, in-home and virtual parties. The Tie Dye Drive By package is a unique splatter experience where kids can create a colorful shirt using tie-dye guns on the go, and the virtual Make-Up Pro package allows kids to learn professional makeup tips from a Glam-Life Guru.
8698 Griffin Rd., Cooper City
Miami-Dade: 
Phillip and Patricia Frost Museum of Science
Birthday parties are a blast at Frost with experiences like Extreme-Nitro, a demonstration where balloons, flowers and eggs shatter, explode or strengthen when the freezing effects of liquid nitrogen are applied. Other science-themed packages include Chemistry Chaos, where kids can explore chemical reactions that change color, overflow and burn; Dino-Dig, a lab that allows party-goers to explore the process of paleontology as they unearth small-scale replica dinosaur remains; and Slimetastic, a hands-on experience that provides ooey, gooey fun. There are many more on-site packages to choose from. Parties at Frost include all-day admission to the museum's exhibits, two-hour access to a private party room and a dedicated birthday host. Virtual parties are offered for those who prefer to celebrate off-site.
Phillip and Patricia Frost Museum of Science, 1101 Biscayne Blvd., Miami
Kubo Play + Party
Kubo, a private party venue, offers 3,500 square feet of indoor space for kids to party. Inside you'll find a giant playground structure, construction blocks, a bounce house, disco lighting and more. Providing a hassle-free experience for parents from arrival to clean up, the Kubo staff has it covered. Kids can enjoy playtime, dancing, characters, food and decorations with the space and staff dedicated entirely to your party. Packages range from The Kubo Small, a disco party that accommodates 30 guests, to The Kubo Disco, a private party for 70 attendees, complete with a DJ booth and disco party show. Additional guests can be added.
1701 NW 112 Ave., Miami
Favorite Camp Program
Broward/Palm Beach:
Camp Kadima, David Posnack JCC
When it comes to summertime fun, adventures at Camp Kadima can't be beat. From swimming, sports and sing-alongs to waterslide days, color wars and game shows, campers have full days of non-stop fun. Each day begins with music, singing, cheering and dancing to get kids into the camp spirit. Specialized camp options include technology, adventure, sports, tween and teen, and theater themes. Camp Giborim, a special needs camp, is also offered to those with developmental disabilities. On-campus security and full-time health care professionals are on-site.

5850 S. Pine Island Rd., Davie
Humane Society of Broward County Kids' Camps
This is PAWsitively a favorite when it comes to animal-loving campers. The supervised, interactive sessions teach kids about staying safe around animals, how to interact with them and what it means to be a responsible pet parent. During the week-long sessions, participants get to roll up their sleeves by feeding and socializing the animals, maintaining cages and making enrichment items for the furry friends. Animal-themed crafts, games and other activities add to the fun. With the popularity of the program, participants are limited to one week of camp per summer to allow the opportunity to as many participants as possible.
2070 Griffin Rd., Fort Lauderdale
Miami-Dade:
Phillip and Patricia Frost Museum of Science
Curious kids can learn all about marine sciences, astronomy, engineering, marine biology and paleontology, either virtually or in-person, with week-long camps all summer long. A variety of themes challenge children to discover the creative brain and science behind art, recreate amazing inventions, test the physics of flight and to learn about launching into outer space. Endless education and entertainment is provided through animal encounters, star shows, multimedia experiences, interactive exhibits, live science demonstrations and engaging hands-on activities. In-person sessions for grades pre-K though 8 include free exploration time around the museum, while the virtual programming gives guided virtual museum tours and incorporates educational videos into the camp experience.
1100 Biscayne Blvd., Miami
Miami Dade College Summer Camps
Miami Dade College caters to more than just college-bound students. MDC offers a wide range of summer camp programs to kids and teens, ages 7 and older, in the areas of robotics, art, performing arts, fashion, cooking, and tennis and technology, among others. If you have a budding business person on your hands, there's even a Digital Marketing camp for kids ages 14-19 that explores how to market products online using social media channels, and an E-Commerce program that teaches how to brand your business and sell items successfully on the web. A variety of in-person and virtual camps are offered at the Homestead, Kendall, North and Wolfson campuses.
Favorite Fitness Fun
Broward/Palm Beach:

David Posnack JCC
With a 7,000-square-foot fitness center, personal training, and free fitness classes, it's no wonder the Sports & Wellness Center at the David Posnack JCC is a top pick. A one-stop shop for fitness, the facility features treadmills, stair climbers, an indoor walking/running track, weight training and more. A FitTeen program is available to those ages 13 and up. There are also organized sports for a range of ages, including basketball, martial arts, tumbling, gymnastics, dance, yoga and more. Membership is open to the public.

5850 S. Pine Island Rd., Davie

Miami-Dade:

Miami Beach JCC
When it comes to health and fitness, South Florida families flock to the Miami Beach JCC for health and happiness. The state-of-the-art Technogym includes cardio equipment, treadmills, bikes, elliptical machines and a climber from the Excite Live line. Additionally, a sports schedule is packed with team and competitive leagues for kids and adults alike. Athletics include flag football, basketball, soccer, baseball, volleyball, racquetball, gymnastics and more. There's also an exclusive schedule of Parent Place classes and activities designed specifically for toddlers and younger tots.
4221 Pine Tree Dr., Miami Beach

Favorite Infant/Toddler Enrichment Program
Broward/Palm Beach:

Broward Libraries Storytime
The Broward County Library is a fan-favorite for families wishing to instill a love of learning and early literacy in little ones. Programs encourage tots to listen and follow along while books are read in an animated and engaging way. The library system didn't miss a beat throughout the pandemic, transitioning its storytime programming from in-person to online so children could seamlessly continue to learn and grow. No worries if a scheduled storytime falls during naptime, Sunsational Storytime readings with books like The Very Hungry Caterpillar and The Red Hen, are archived on YouTube so you can watch and listen at your leisure. There's also Toddler Tales, with stories told in English, Spanish, and a little bit of sign language, too. Additional virtual programs for babies and toddlers feature puppet shows, singing, dancing and interactive videos.
Miami-Dade:
My Gym
From first steps to handstands, My Gym keeps kids active throughout many milestones. Classes teach climbing and tumbling techniques, but also support self-esteem and confidence. Upbeat teachers — they've got a high energy level to keep up with — lead classes from Tiny Tykes and Terrific Tots for babies, to Whiz Kids and Ninja Training for older kids. Gyms are equipped with the tools and toys to promote coordination, strength and hand-eye coordination. There are also scheduled blocks of free-play time where kids can socialize with peers and create their own fun. There are more than 700 locations worldwide, including Aventura, Doral, Kendall and Miami Lakes.
Favorite Academic Enrichment/Tutoring Program
Broward/Palm Beach:
Code Ninjas
From coding to game building to robotics, kids at Code Ninjas gain critical thinking skills and learn STEM concepts while having high-tech fun. Code Ninjas Jr. provides a foundation through visual curriculum for children ages 5-7, while Code Ninjas Create advances to building video games and learning coding skills for those ages 7-14. The program not only teaches kids about technology but also about how it works. Coders learn to build the video games they play like Roblox and Minecraft. A variety of camps are also available, as well as an At-Home Coding program with online guidance from Code Senseis. Locations in Boca Raton, Boynton Beach, Cooper City, Coral Springs, Fort Lauderdale, Plantation, and Weston
Miami-Dade:
Kumon
Kumon provides tools to encourage independent thinking, focus and motivation for children to reach their full academic potential. Whether your child is seeking enrichment, needs help catching up, or is building a foundation for learning, the Kumon Math and Reading Center has programs to help them succeed. Students receive an orientation and placement test that allows insight on the appropriate progression path and individualized lesson plan. Trained and certified instructors serve as mentors to help provide direction, support and encouragement throughout the process. Locations in Miami, Miami Beach, Miami Gardens, Miami Lakes and Miami Shores,
---
View All 2021 South Florida Family Life Family Favorites
No items found