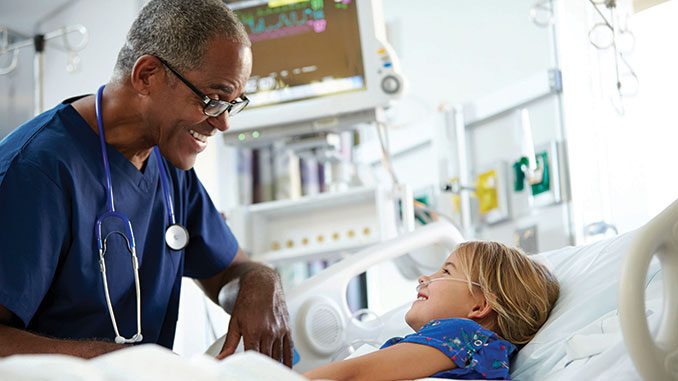 Places and professionals dedicated to keeping kids happy and healthy
Published: June 29, 2021
Favorite Pediatrician
Broward/Palm Beach:
Dr. Ivette Cubas
From minor bumps and bruises to more serious concerns, Dr. Cubas is a family favorite when it comes to pediatricians. Affiliated with Loving Care Pediatrics, part of the TopLine MD Alliance, the mission of the practice and staff is to build strong relationships with patients and families by providing care centered on the most up-to-date medical guidelines. Born and raised in South Florida, Dr. Cubas completed her undergraduate education at the University of Miami and her Master of Science in Biomedical Sciences from Barry University.
1861 NW 123 Ave., Pembroke Pines
Miami-Dade:
Pediatric Associates
For more than 60 years, parents have entrusted the care of their little ones to Pediatric Associates. Miami-Dade locations stretch from Aventura to Homestead, providing a range of pediatric services, 365 days a year, to newborns up to age 21. In totality, it's Florida's largest privately-owned primary care pediatric practice with more than 200 providers. In addition to specialized pediatric care, Pediatric Associates provides on-site services, such as lab and x-rays, free support groups, chronic disease management assistance, educational and safety classes and events. Locations in Aventura, Causeway (North Miami), Coral Gables, Doral, Hialeah, Homestead, Miami Beach, Miami Lakes, Palmetto Bay, Skylake and West Kendall.
Favorite Urgent Care Center
Broward/Palm Beach:
Baptist Health Urgent Care
For the prompt care of minor illnesses and injuries, Baptist Health is a go-to. With multiple locations throughout South Florida, Baptist Health's urgent care centers are staffed to treat medical conditions, perform procedures, and provide physical and health tests, lab tests, screenings, immunizations and vaccines. Save My Spot is a call-ahead program where patients can make a reservation at a certain location, and the RX Now feature provides convenience with immediate, on-site access to prescription medication. Virtual visits are also available. Locations in Coral Springs, Davie, Pembroke Pines, Plantation, Sunrise, West Boca and Weston.
Miami-Dade:
Nicklaus Children's Urgent Care Center
When the pediatrician's office is closed and the situation doesn't call for an ER visit, Nicklaus Children's Urgent Care locations provide the comfort of walk-in urgent care services with no appointment required. Babies, children, and young adults under the age of 21 can receive prompt care by board-certified pediatric physicians for colds and coughs, ear infections, rashes and other minor injuries and illnesses. Nicklaus Children's also provides non-emergency virtual care via video conferencing through its state-of-the-art Telehealth Center. Locations in Doral, Hialeah, Homestead, Miami Lakes, Nirvair Chowdhury Midtown, Palmetto Bay, West Bird, and West Kendall.
Favorite Pediatric Specialist
Broward/Palm Beach:
D
r. Jason Adler, Pediatric Critical Care
Dr. Jason Adler, medical director of Memorial Healthcare System's Complex Chronic Care Clinic, is trained to care for the most medically fragile children. A board-certified doctor of pediatric critical care medicine, Dr. Adler is affiliated with Joe DiMaggio Children's Hospital and Memorial Regional Hospital. Dr. Adler and a team of healthcare professionals care for children and adolescents who have multiple complex healthcare needs. Each child's medical needs, care goals, family, and community support system are taken into consideration and treated individually throughout the process. 1005 Joe DiMaggio Dr., Hollywood.
Miami-Dade:
Florida Center for Allergy and Asthma
Helping patients of all ages breathe easy and live comfortably, the Florida Center for Allergy and Asthma Care is a leader in the field, offering highly specialized services in the testing and treatment of allergies, asthma and other immune disorders. Among those commonly treated are allergic skin diseases, as well as food, drug and pet allergies. The Center's website also features a blog where parents can receive information from FCAAC — such as "When is it safe to introduce peanut in a toddler's diet?" — or can download a comprehensive list of South Florida's Summer Allergies and a Hurricane Preparedness List. Located in Aventura, Coral Gables, Hialeah/Miami Lakes, Homestead, Kendall, Miami Beach, North Miami Beach, Palmetto Bay and West Kendall.
Favorite Pediatric Dentist
Broward/Palm Beach:
TIE
Dr. Abby Wilentz, DDS
Kids smile a little bigger and brighter after a visit with Dr. Wilentz, a board-certified pediatric dentist who has been providing dental care to children since 1997. A mom of three, Dr. Wilentz strives to treat every patient like one of her own children. Located at Pediatric Dentistry Orthodontics in Plantation, Dr. Wilentz was inspired by her dad, Dr. Trupkin, who is also a pediatric dentist at the same dental office. The family-owned and centered practice provides comprehensive treatment for families throughout South Florida. 7400 NW Fifth St., Plantation,

Dr. Sandra Brener, DDS
Dr. Brener and her team aim to ensure that each child's smile is just as happy as it is healthy. Applying their pediatric skills, their approach incorporates behavior modification techniques to set kids' nerves at ease so that children are not fearful and the experience is a positive one. Dr. Brener also focuses on preventable disease management with thorough medical and dental history evaluations, dietary analysis and saliva testing. Using that information, Dr. Brener develops an individualized preventative program for each patient. With health and safety in mind, the office uses the latest technology for diagnosis and treatment. 9720 Stirling Rd., Cooper City.
Miami-Dade:
Miami Children's Smiles
Miami Children's Smiles recognizes that a trip to the dentist can make some patients — particularly children — nervous. While keeping the comfort of kids in mind, the team has incorporated procedures and protocol to reduce anxiety, including a program tailored specifically to children on the Autism spectrum. The office also suggests positive ways parents can approach a trip to the dentist to keep children on a path leading to healthy dental habits. Miami Children's Smiles pediatric dentistry provides routine treatment and the treatment of all dental conditions for children and adolescents of all ages.
3850 Bird Rd., Miami
Favorite Program for Special Needs
Broward/Palm Beach:
Broward Center for the Performing Arts Sensory-Friendly Performances
For some kids, a live performance with loud sounds and bright lights can be overwhelming. In creating a welcoming environment for all, the Broward Center has developed sensory-friendly performances that offer a supportive atmosphere for children and adults on the autism spectrum as well as individuals with other sensitivity issues or developmental disabilities. Slight adjustments are made to the programming, including reduced sound, elimination of flashing or strobe lights and minimized special effects. A quiet zone is also available adjacent to the theater. BCPA also offers an online guide with cartoon images and useful tips to help prepare new audiences for a live theater experience.
201 SW Fifth Ave., Fort Lauderdale
Miami-Dade:

Carrie Brazer Center For Autism
To meet each child's educational and behavioral goals, the Carrie Brazer Center for Autism provides highly structured and consistent, cognitive and community-based instruction for children with autism and other developmental delays. Founder Carrie Brazer is a certified Positive Discipline Educator who incorporates positive principles into the school and camp curriculum. The approach teaches children, teachers, staff and parents to encourage each other and themselves. Brazer is a Florida Certified Special Education teacher with a master's degree in varying exceptionalities.
7530 Sunset Dr., Miami
Favorite Provider for Special Needs
Broward/Palm Beach:
Nicklaus Children's
Dan Marino Outpatient Center
Internationally recognized, the program for autism, attention deficit and developmental disorders at the Weston Outpatient Center ranks high with parents locally and from around the world. In addition to providing comprehensive care, the center also coordinates community outreach projects that incorporate the services of specialized healthcare professionals, educational organizations, volunteer programs, and parent support groups. Additional pediatric services at this location include rehabilitation services, specialists, clinical care, and cardiology and sports injury programs.

2900 S. Commerce Parkway, Weston
Miami-Dade:
Nicklaus Children's Hospital
The needs of every child are unique, and so, the services that Nicklaus Children's Hospital provides cover a broad range with more than 40 pediatric specialties and sub-specialties, including allergy & immunology, cancer and blood disorders, critical care, gastroenterology, neurology rheumatology, urology and more. Treatment plans vary, but the goal remains the same: to provide children and their families the best possible medical care available.
3100 SW 62 Ave., Miami
Favorite Pediatric Emergency Room
Broward/Palm Beach:
Joe DiMaggio Children's Hospital | Memorial Healthcare
As the only Level 1 pediatric trauma center in south Broward County, the hospital treats a range of emergency and trauma cases from minor to life-threatening. Located across the street from Joe DiMaggio Children's Hospital, the emergency department meets the highest standards defined by the state of Florida and the American College of Surgeons Committee on Trauma. A multi-disciplinary team supports the department with specialties in pediatric medicine, pediatric intensive care medicine, pediatric rehabilitation, pediatric anesthesiology, pediatric radiology and interventional radiology. Open 24 hours a day, seven days a week, the emergency room saw nearly 40,000 patients last year alone.
3501 Johnson St., Hollywood
Miami-Dade:
Nicklaus Children's Hospital
Accidents and illnesses happen, which is why Nicklaus Children's Emergency Department, with its freestanding pediatric trauma center, is open 24 hours a day to serve children. A caring medical staff, combined with technologically advanced equipment, is on hand to provide immediate, quality care. A team specialized in pediatric care is on call around the clock when emergencies arise. For those needing advanced care, the hospital provides a full spectrum of services by pediatric subspecialty physicians. The Level III pediatric trauma center handles incoming traumas as well as transfers from other hospitals. While ensuring patient satisfaction, ongoing strategies are designed to reduce patient waiting time, enhance the ER waiting room atmosphere and improve the delivery of care.
3100 SW 62 Ave., Miami
Favorite Maternity Hospital
Broward:
Broward Health Maternity Place
New parents and those adding to their brood choose the maternity services at Coral Springs Medical Center and Broward Health Medical Center to welcome Baby into the world. Both facilities offer comprehensive and highly specialized obstetric and pediatric care, private postpartum suites, and a team of highly skilled medical professionals on-site. Coral Springs Medical Center provides a Childbirth Concierge service that guides moms and dads every step of the way from registration to delivery care to the transition home. The Maternity Place at Broward Health Medical Center is also committed to assisting with the navigation process and offers many extras, including lactation classes, massage therapy, weekly parent support groups and more.
Broward Health Coral Springs, 3000 Coral Hills Dr., Coral Springs
Broward Health Medical Center, 1600 S. Andrews Ave., Fort Lauderdale
Miami-Dade:
Jackson Memorial Hospital
Florida's first designated Baby-Friendly health system is equipped to handle pregnancies and deliveries from routine to high-risk. Providing advanced maternity care, along with special amenities and accommodations,
Jackson offers a wide range of birthing options with expert care in a state-of-the-art facility. The hospital's Baby-Friendly USA designation meets the highest standards for mother/baby care practices related to infant feeding determined by the organization. The Little Miracles Maternity Suite is designed to accommodate mom and her support system with a private suite, arrangements for an overnight guest, and a gourmet meal for two.
1611 NW 12 Ave., Miami,

Favorite Hospital for Pediatrics
Broward/Palm Beach:

Joe DiMaggio Children's Hospital | Memorial Healthcare
A full-service hospital, treating everything from minor illnesses to trauma-related accidents to complex medical conditions, Joe DiMaggio Children's Hospital is a front-runner in pediatric care. Services and programs are provided in a child-friendly atmosphere by world-class pediatricians, pediatric specialists, specialty-trained nurses, and support staff around the clock. The facility features the Wasie Neonatal Intensive Care Unit, a Pediatric Intensive/Cardiac Care Unit, a Level 1 Trauma Center, and a Children's Emergency Department. Vibrant colors, whimsical decor, and larger-than-life murals welcome children, and private rooms are wired for movies, video games, Internet, and educational programs.
1005 Joe DiMaggio Dr., Hollywood
Miami-Dade:
Nicklaus Children's Hospital
With over 40 pediatric specialties, Nicklaus Children's Hospital has made it its mission to inspire hope and promote lifelong health by providing high-quality care to every child. In doing so, the 309-bed hospital is designed exclusively for children, with more than 800 attending physicians and more than 475 pediatric subspecialists. Nicklaus Children's Hospital is the flagship with a network of outpatient centers as well. Medical services include the Brain Institute, Cancer & Blood Disorders Center, Fetal Care Center, Heart Institute, Orthopedics & Spine Surgery, and Sports Health, among many others. Nicklaus knows that every patient and condition is unique and uses a multi-disciplinary team to evaluate, diagnose and develop a comprehensive treatment plan for each child.

3100 SW 62 Ave., Miami
---
View All 2021 South Florida Family Life Family Favorites
No items found