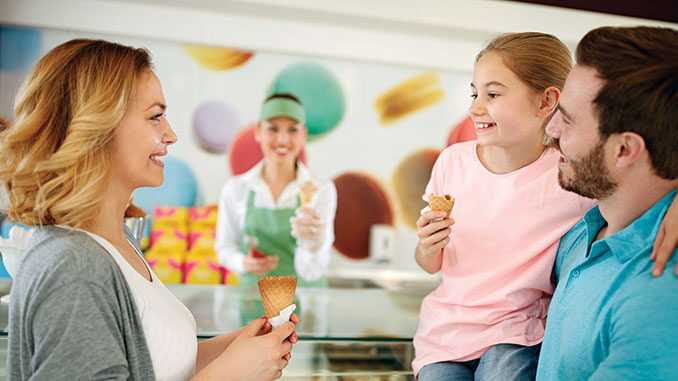 For a munch or a meal, here's where to take your hungry tribe
Published: June 29, 2021
Favorite Breakfast Place
Broward/Palm Beach:
First Watch
With breakfast options like a BLT Benedict, Barbacoa Breakfast Tacos and Bananas Foster French Toast, it's no wonder First Watch has become a favorite. This relatively new-to-South-Florida chain offers healthy and delicious options for breakfast, brunch and lunch, and it is known for its fresh ingredients, varied menu and large portions. Fresh juices and smoothies, avocado toast, biscuits and gravy, various hash options, omelets, frittatas, waffles, pancakes and quinoa bowls, plus sides, soups, salads and sandwiches, make up the menu. A seasonal menu is offered as well. In the meanwhile, kids can grab specialties like a fruit crepe or chocolate chip pancake for their meals.
Kristof's Kafe
This cozy café along State Road 84 in Davie is open 8 a.m. to 3 p.m. for breakfast and lunch with dishes made to order from fresh ingredients. Diners can enjoy specialties like Strawberry Stuffed French Toast, Country Fried Steak, Corned Beef Hash, Kristof's Kroissant, a Spinach & Feta Omelette, and more. Dishes like Steak & Eggs, an Egg White Scramble, and a Broken Yolk Sandwich are also on the menu. Kristof's lunch menu is equally appealing, with soups, salads, sandwiches, wraps, quesadillas, burgers and other entrees, plus some sweet treats to finish the meal.
8912 W. State Road 84, Davie
Miami-Dade:
Cracker Barrel
Incredible buttermilk biscuits, a delicious all-day breakfast menu and buttery cornbread muffins give Cracker Barrel an edge in this category. This chain offers everything from traditional country breakfast meals with eggs, grits, hash-brown casserole and your choice of meat to Wild Maine Blueberry Pancakes. Egg biscuits, meat biscuits, and biscuits and gravy round out the specials, and diners can build their own favorite meals from the extensive sides menu if none of the combinations catch their eyes. For the kids, mini confetti pancakes and a meat biscuit with Tater Rounds are on the menu. For those seeking non-breakfast fare, Cracker Barrel's lunch and dinner menu is extensive. And don't forget dessert!
Front Porch Café
An all-day breakfast menu is also offered at the Front Porch Café in Miami Beach. The menu goes beyond the traditional with a BBQ Breakfast Tostado, Breakfast Tacos, Huevos Rancheros, Green Eggs, Chicken Satay omelet, and an egg sandwich with cheese, shiitake mushrooms and scallions on a baguette, among many other options. The egg dishes are served with a choice of fruit, potatoes, tomatoes or dressed garden greens, or diners can opt for lighter breakfasts, such as Tomato and Avocado Toast or Chia/Matcha Breakfast Pudding, or pancakes and french toast dishes.
1458 Ocean Drive, Miami Beach
Favorite Pizza Place
Broward/Palm Beach:
John the Baker
The family behind this Pembroke Pines restaurant has been hand-tossing pizza and hand-making its sausage, meatballs, and sauces since 1960. Along with its famous garlic rolls, this restaurant offers a Bruschetta Pizza, Margherita Pizza, and combos such as Hawaiian, White Heat and Meat Lovers Pizza. The John The Baker Special includes sausage, pepperoni, mushrooms, onions and green peppers, or families can choose from a number of other pizza options. John the Baker also offers a variety of pastas, sandwiches, subs, soups and salads, plus a kid's corner for the 12 and under set. A second location is franchised in Coral Springs.
2116 N. Flamingo Road, Pembroke Pines
Miami-Dade:
Pizza Rustica 
Roman-style pizza rules at Pizza Rustica, home of the famous rectangle pizza that is made from scratch throughout the day. Fresh is the name of the game at Pizza Rustica, which does not have freezers in its restaurants. Fresh organic produce, freshly roasted chicken breast, fresh herbs, San Marzano tomatoes in a no-sugar-added sauce and extra virgin olive oil are all standards in its hand-crafted pizzas. Salads and paninis are also on the menu, as well as Truffle Garlic Rolls, meat-and-cheese rolls, chicken strips, chicken wings, breadsticks, and a chocolate pizza with strawberries and Nutella for dessert. In addition to its original store in Miami Beach, Pizza Rustica has seven other locations in South Florida, one in Ohio, and two in Paris, France.
863 Washington Ave., Miami Beach

Favorite Family Restaurant
Broward/Palm Beach:
Flanigan's Seafood Bar and Grill  
With its giant green cups, big screen TVs and daily specials, Flanigan's makes dining out fun and affordable. Ditch the dishes and belly up to this bar and restaurant for Mexican Monday, Tumbleweed Tuesday, Wing It Wednesday, a $5.99 lunch or another of the chain's fabulous meal deals. Flanigan's is known for its baby back ribs, but the extensive menu includes Firecracker Shrimp, classic grilled fare, local catch offerings, a kid's menu and a massive Banzai Brownie, among other fare. Aquariums and fishy décor add to the fun inside the 10 locations in Broward County and five locations in Palm Beach and Martin counties, and many restaurants also have outdoor seating for families who like the fresh air.
 Fuzzy's Taco Shop
Want a taste of something from south of the border? Fresh tortilla chips seasoned with Fuzzy Dust kick off the meal offerings at this Tex-Mex restaurant in Fort Lauderdale, and Oreo Churros offer a sweet, sweet ending. In between, you can nosh on Baja tacos, burritos and burrito bowls, quesadillas, all-day-long breakfast burritos and tacos, salads, and Mexican favorites such as enchiladas, fajita plates and combos. Kids can get tacos, nachos, a cheeseburger quesadilla or chicken sticks, plus snack sizes of churros, while the adults can slake their thirst with beer, magaritas and specialty drinks. Fuzzy's also lets you take the taste home with sales of Fuzzy Dust seasoning, various hot sauces and Fuzzy's merch.
854 W. Cypress Creek Rd. #197, Fort Lauderdale
Miami-Dade:
Cheesecake Factory
If you really want cheesecake, you might want to order it first. Otherwise you'll likely be too full to enjoy the decadent dessert offerings at this chain restaurant, which has nine locations in South Florida. The Cheesecake Factory menu is huge, which matches its portion sizes, and it lists everything from small plates, salads and steaks to pastas, pizzas, and other specialties from around the world. You can go for comfort fare like Chicken and Biscuits or fire up your taste buds with spicy Thai dishes like Bang-Bang Chicken and Shrimp. Although you can order breakfast all day, the Saturday and Sunday brunches (served until 2 p.m.) include amazing pancake options, such as Lemon-Ricotta, Caramel Apple or Cinnamon Roll Pancakes, and Bruleed French Toast.

Favorite Burger Joint
Broward/Palm Beach:
BurgerFi
Looking for a healthier burger that tastes great? How about getting that burger with a side of fresh-cut fries and a Banana Churro Shake or a Caramel Fudge Bar Concrete? BurgerFi, a chain of more than 125 restaurants that started with a single location in Lauderdale-by-the-Sea, built its rep on hormone-free and antibiotic-free angus hamburgers offered with a variety of toppings, such as the Breakfast All Day Burger, The CEO and the Ultimate Bacon Cheeseburger, as well as plant-based Beyond Burgers and burgers served on lettuce wedges instead of buns. It also serves up chicken and hot dogs, a wealth of sauces, a kids meal, and custard cups, shakes and concretes. The BurgerFi app rewards purchases made through the app and gifts you a free shake on your birthday.
Doc B's Restaurant and Bar
The burgers and sandwiches at Doc B's range from the traditional — a cheeseburger with all the fixings — to something truly original — the "All Green" Burger made with a patty of green rice and kale blend. For those with gourmet tastes, the Wedge Burger is topped with a sunny-side up egg, danish blue cheese and candied bacon, or ditch the beef and go for a Turkey Burger with avocado, red onion and tortilla strips. Four different, delicious chicken sandwiches are also on the menu, as well as a Carnitas Sandwich and a West Coast Steak Sandwich on an artisan roll. Wok Out Bowls offer plenty of choices for the non-burger fans, and a luscious dessert menu includes Cinnamon Toast Crunch Cheesecake and Tres Leches.
452 N. Federal Highway, Fort Lauderdale
Miami-Dade:
Five Guys
Built on a model of handcrafted burgers made exactly the way you want it, and mountains of delicious, freshly-made fries, Five Guys serves only a few things, but it serves them well. You can only order a burger or hot dog with bacon and/or cheese, or a sandwich: veggie, cheese veggie, grilled cheese or BLT. But you can choose as many of their free toppings as you like, including toppings you would normally pay a premium for, such as grilled mushrooms and grilled onions. Paired with an order of Five Guys style fries or Cajun style fries, and one of their delicious milkshakes (also with free mix-ins), you've got a filling and perfectly made meal! The burgers come in little sizes for your smaller family members, and you can munch on free peanuts in the store while you wait for your order.
PINCHO 
South Florida's Latin flavors anchor the award-winning burgers at PINCHO, which has seven locations in Miami-Dade, with more on the way. Cilantro, plantains and fried queso blanco figure prominently in several of PINCHO's burger offerings, and the restaurant also has a signature PINCHO sauce. Its burgers have gained nationwide acclaim thanks to PINCHO winning the South Beach Wine and Food Fest Burger Bash (twice!), the
2019 BurgerBeast Hamburger House Party, Miami New Times Burgerfest and more. The restaurant also offers kebabs, sides like Fried Cheese and Tostones, bowls, salads, a hot dog, sandwiches like the Vaca Frita Philly and the Toston Chicken, and a kids menu.
Favorite Place for Frozen Treats
Broward/Palm Beach:
Jaxson's Ice Cream Parlour
At this famous ice cream emporium, you can get ice cream in all its glorious forms AND The Kitchen Sink – Jaxson's crowd-pleasing ice cream creation that serves up a pound of ice cream per person in an actual metal sink. All of the ice cream, sorbets, yogurts and toppings are prepared at Jaxson's daily, batch by batch, and the flavor menu is extensive, with about 40 regular flavors and a handful of seasonal flavors. The portions are super-sized at Jaxson's, whether you are getting an ice cream sundae, banana split, waffles with ice cream, mile-long hot dog, Titanic burger or hot sandwich. Jaxson's also sells ice cream by the quart, and you can amuse yourself while you wait in its delightfully retro Country Store.
128 S. Federal Hwy, Dania Beach
The Magic Cow
The mix-ins take top billing at this family-run, homemade ice cream shop with over 50 flavors of ice cream, including seasonal and specialty flavors. Employees customize your treat by mixing in toppings, such as fruit, nuts, candies, homemade brownies, sprinkles and cookies. Several things set Magic Cow apart: its fresh-made waffle cones, which are offered without extra cost; its non-dairy and no-sugar-added ice creams; its Parma Violet ice cream flavor, which you won't find anywhere else in South Florida; its ice cream pizza (ice cream and toppings on a thin layer of cake); and its special-occasion ice cream cupcakes and cakes. Plus, when customers ring a bell at the counter, the employees mooooo, which is a favorite of the younger set.
4298 S. University Drive, Davie
Miami-Dade:
Menchie's Frozen Yogurt
A rotating menu of limited-time flavors keeps things interesting at Menchie's, which offers yummy flavors of a healthier frozen treat. Menchie's has flavors such as Live From NY Cheesecake, Mudslide Pie, Fresh Shredded Coconut, Dreamy Dulce De Leche, Toasty Marshmallow, Takes The Cake Batter and Dole Pineapple, as well as nonfat, low fat, tart, sorbet, no sugar added and gluten-free varieties. Once you've picked your base flavor, you can load up with toppings, syrups and sauces to make your creation exactly the way you want it. Menchie's also has custom-made cakes, character cakes and ready-made specialty cakes to help you celebrate any occasion.
Vayla's Gourmet Shaved Ice 
Made with pure sugar and no high fructose corn syrup, Vayla's has vegan, gluten-free, sugar-free, kosher and natural flavors among its 30 homemade flavors, which are made without preservatives so you can enjoy all the goodness of a shaved ice without the guilt. Toppings such as condensed milk, whipped cream, cream of coconut, gummy worms and other candies complete your shaved ice experience. And if you can't get out to its store at The Falls shopping center, Vayla's has a food truck that can bring its icy goodness straight to you.
8888 SW 136th St, Miami
Favorite Farmers' Market
Broward/Palm Beach:

Yellow Green Farmers Market
Open year-round on Saturdays and Sundays 9 a.m. to 4 p.m., the Yellow Green in Hollywood brings all the best elements of a farmers market together in one place. Under the shade of the market roof, you can find fresh and local produce, artisans and craftsmen, flowers, wellness and skincare, baked goods, beverages, made-to-order treats and meals, and cuisine from around the world. Seating areas encourage families to dine in, and live music and free yoga classes are scheduled every weekend. Grab a healthy smoothie and a made-to-order wrap and support local businesses, clean living and a healthy community at Yellow Green.
3080 Sheridan St., Hollywood
Bedner's Farm 
U-Pick strawberries, peppers and tomatoes, plus the tractor rides and a petting zoo, make Bedner's Farm in Boynton Beach more than a farmer's market. Families can pick up fresh seasonal produce, or try their hand at picking their own fruits and veggies during the winter U-pick season. Bedner's also offers fresh breads, homemade ice cream and artisan items for sale, along with fun activities such as panning for gold and corn hole. An annual fall festival at Bedner's features a pumpkin patch, corn maze and other family fun.
10066 Lee Rd., Boynton Beach
Miami-Dade:
Robert Is Here Fruit Stand
At the south end of the Florida Turnpike, on the route to the Everglades National Park Ernest Coe Visitor Center, the Robert Is Here Fruit Stand beckons visitors to stop by on their travels and enjoy a taste of the Florida Redlands. This family-owned market features fresh local produce as well as exotic fruits, fresh-squeezed juices, key lime pies, Cuban sandwiches, sunflowers, artisan food items and the region's best milkshakes and smoothies made with fresh fruits from the farm. Robert is Here, which is open daily, has plenty to keep the family entertained, with an animal farm, antique tractor collection, play area and picnic tables, plus live music on the weekends.
19200 SW 344th St., Homestead
Pinecrest Farmers Market
This Sunday-only farmers market offers families the chance to pick up fresh local fruits and vegetables, plus smoothies, coffee, baked goods, flowers, artisan crafts, seafood and made-to-order meals and treats in the beautiful Pinecrest Gardens setting. Open 9 a.m. to 2 p.m., this market features foods for sale from fresh bread and cheese and fruit bowls to prepared meals like barbecue and falafel. Fish dips, teas, kombucha and other local goods are also available each week. There's enough offered to allow you to try something different each time you visit.
11000 Red Road, Pinecrest
Favorite Restaurant Where Kids Eat Free
IHOP
It's no wonder that one of the most popular restaurants for kids – one that serves breakfast all day long – also has one of the best Kids Eat Free deals. At IHOP, kids eat free with an adult entrée purchase during its seasonal Kids Eat Free promotion. That means kids can scoop up a Funny Face Pancake Combo, Jr. , Chicken & Waffles, Jr., Cheeseburger or other kids meal for $0 while a parent enjoys a breakfast, steakburger or sandwich of their own. With house-made milkshakes also on the menu, IHOP gives kids even more reasons to talk mom or dad into eating out, while staying on budget. This deal runs for several months each year, so call your local
IHOP to find out when you can take advantage of it.
Favorite Healthy Food Spot
Broward/Palm Beach:
Panera Bread
Healthy eating is also delicious at Panera Bread, which specializes in freshly prepared, wholesome meals with a choice of salads, sandwiches, bowls, flatbread pizzas, soups, breakfast wraps and souffles, bagels, coffee and baked goods. For groups looking for value, Panera also offers Family Feast Value Meals, such as a flatbread pizza meal, a breakfast family feast or a kids family feast. The kids menu features Broccoli Cheddar Mac & Cheese, Creamy Tomato Soup and small sizes of sandwiches and salads for your little ones. Fruit cups, smoothies and juices are also on the menu to help wash down the delicious baked goods that are made fresh daily.
 Tropibowls
TropiBowls has a very simple and straightforward goal: to spread healthy eating and spread awareness of healthy eating. With its motto of "Eat Healthy, Be Healthy," TropiBowls sources its ingredients locally and ensures that its food offerings are organic, gluten free or vegan. Customers can create their own Acai Bowl or Smoothie Bowl, choose from a signature Green Bowl, and enjoy a smoothie or natural juice in a mug or Pineabowl, which makes eating well fun for kids and adults. TropiBowls also offers rice and salad bowls, avocado toasts, paninis and wraps, and breads and muffins.
1520 E. Commercial Blvd., Oakland Park
Miami-Dade:
Whole Foods
What started as a small organic grocery has exploded into a healthy eating and lifestyle experience inside Whole Foods Market, which offers local, organic, plant-based foods throughout its store, from its fresh produce and animal welfare-rated meat and seafood to its shelved products and personal care products. Whole Foods makes shopping easy with its Vegan, Keto-friendly, Gluten-Free, Paleo-friendly, Vegetarian and Dairy-Free labels. Most stores offer a salad bar and a hot foods and soup bar, as well as beer, wine and coffee bars, plus rows of store-prepared foods so you can bring healthy, delicious meals home to prepare in a snap. And thanks to Amazon, Prime members save 10 percent throughout the store and get special sale prices on select goods.
Plant Miami
Plant Miami offers its certified Kosher, gourmet, vegan food at the Plant Market outdoor farmers market on Sundays from 9 a.m. to 4 p.m. in the gardens of The Sacred Space Miami. The chefs of Plant Miami create their innovative dishes with the seasonal, local produce found at the market, including specialty microgreens and 67 varieties of edible flowers. Plant Miami also offers organic spirits, craft cocktails and organic wines. Families can enjoy their Plant Miami meals in the gardens or take them home to enjoy along with fresh, organic produce from the Plant Market.
105 NE 24th St., Miami

---
View All 2021 South Florida Family Life Family Favorites
No items found