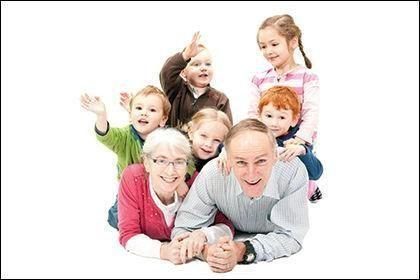 Broward Family Life: The Grand Scheme - How a grandson bridged the generations. By Gregory Keer.
Published: October 23, 2017
By: Gregory Keer
Among the many things that have changed since we became parents more than 19 years ago is the grandparent landscape. We lost my father almost four years ago, my father-in-law passed in April, and my 99-year-old grandmother left us two months ago, leaving huge voids in our family configuration but lots of wonderful memories, laughs and lessons for our kids. Three amazing grandmothers — my mom, my step-mom, and my mom-in-law — now carry the mantle of spoiling and helping to guide our boys.
For years before Wendy and I had our first son, my wife and I debated moving to another city. One reason was to get away from our respective families. We were perplexed by their persistent requests (implied or direct) to see us more. And we were exhausted in our efforts to give them equal time.
Soon enough, we learned why they kept up the attack. They were waiting for a bigger prize — they were waiting for grandchildren. When our firstborn arrived, everyone hit the jackpot. Benjamin got three sets of adoring grandparents (my parents had been divorced and remarried). As a result we got "parents lite," new versions of the people who raised us. They were more fun, more relaxed and so infatuated with this little "prince" that we sometimes felt left out — before we came to our senses.
A year after Benjamin was born, we moved from the city to the suburbs, leaving the protection of a mountain range that kept the extended family at bay. Part of our intent for this bold change was to bring our son closer to his grandparents. But geographic closeness did not mean sameness. Each set of grandparents was different and no one highlighted that
better than Benjamin.
Three days of the week, one pair of grandparents picked him up from day care. On Mondays, he saw Bubbie and Zaydie (Yiddish for Grandma and Grandpa). With them, he became a dog-lover, walking their dog by the time he was a year old. He went on sailboats with them and took grandparent-and-me classes.
He also got them in trouble. One time, Benjamin came home and announced, "I want to be a judge!"
"Where'd you get that idea?" we asked.
"I want to be a judge like Judge Judy," he explained.
We tried to imagine how he became familiar with the verbally pugilistic jurist with the famously low-life show participants.
Our son answered, "Zaydie lets me watch it." Immediately, we phoned the culprit and chastised Zaydie Sheldon and his accomplice, Bubbie Cindi. Unbowed, they thought the whole thing was a laugh riot.
On Tuesdays, Nana Fran and Papa Ken took their turn. Benjamin went to library events with them and made banana milkshakes. He reveled in the toy collection of Nana, who kept a wide array in her speech therapy office. He equated Papa with car snacks (usually pretzels or pistachios) and baseball games.
On Thursdays, he liked to sing with Grandma Judi and Great-Grandma Jenny. Then there were the food feasts with these two. Whatever our son lacked in nutritional fortification during the rest of the week he got from his "party" of up to a dozen culinary items, from roast chicken to spumoni ice cream. We have pictures of him in front of tables that would shame Caesar.
As the years have passed, the grandparents have adapted to the changes brought on by loss and our sons' maturation. In fact, although the grandmothers still treat the grandkids to special times, the boys have begun to provide inspiration and support right back at them in many ways. Because of all of this, Wendy and I are grateful for all the "grand-ness" in our lives.