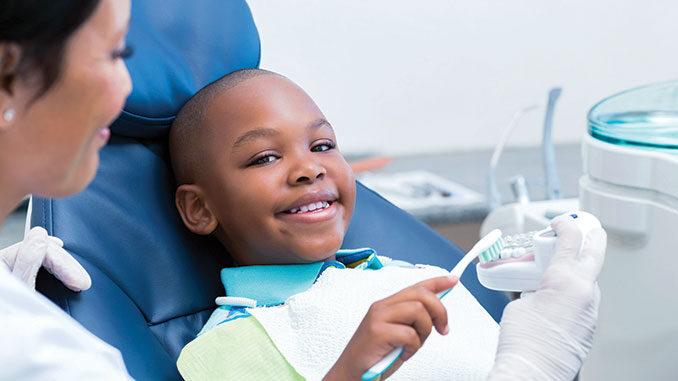 Places and professionals dedicated to keeping kids happy and healthy
Published: June 28, 2022
When it comes to kids, the importance of their health and wellness ranks as a top priority. South Florida Family Life readers voted for their favorite children's health facilities, pediatricians, dentists and more to keep their kids happy and healthy.
Favorite Pediatric Hospital 
Broward: Joe DiMaggio Children's Hospital
In South Florida, the name Joe DiMaggio is as synonymous with baseball as it is with pediatric healthcare. Established in 1992, Joe DiMaggio Children's Hospital has earned its reputation of being a leading pediatric hospital by providing expert care and a comprehensive scope of services in a child-friendly atmosphere. The four-story facility's décor and equipment, such as
the CT scanner disguised as a pirate ship, sets children's nerves at ease. Treating everything
from minor illnesses to complex medical conditions, the hospital is staffed 24-hours a day by
a world-class team. 1005 Joe DiMaggio Dr., Hollywood, 954-265-5324
Miami-Dade: Nicklaus Children's Hospital
Topping the list locally as a Miami-Dade Family Favorite Pediatric Hospital, Nicklaus Children's Hospital was also nationally ranked in five pediatric specialties by U.S. News and World Report in its 2021-22 "Best Children's Hospital" rankings. The 309-bed pediatric specialty hospital has nearly 800 attending physicians and more than 390 subspecialists, ready to treat the most complex of cases. The hospital is also the largest provider of pediatric medical education in the southeastern United States. 3100 SW 62 Ave., Miami, 305-666-6511
http://www.nicklauschildrens.org
Palm Beach: West Boca Medical Center
When a trip to the hospital is in order, it can be overwhelming for kids. So to keep them comfortable, and to provide specialized care, West Boca Medical Center has a separate pediatric emergency room, pediatric department and pediatric intensive care unit specifically to treat an array of conditions in children from minor to severe. The team is dedicated to supporting parents throughout the entire process by keeping them informed every step of
the way. 21644 State Road 7, West Boca, 561-488-8000
Favorite Pediatrician
Tri-County Winner: Pediatric Associates
Providing high-quality care 365 days a year, Pediatric Associates is the go-to when it comes to choosing a pediatric physician in Broward, Miami-Dade and Palm Beach counties. With more than 200 providers and 34 locations throughout the state, doctors at the privately-owned primary care pediatric practice provide services from check-ups and hearing and vision testing to on-site laboratories and x-rays at select locations. Pediatric Associates also offers telehealth visits and convenient night, weekend and holiday hours.
Various locations
855-400-1774
http://www.pediatricassociates.com
Favorite Urgent Care Center
Broward: Memorial Urgent Care Center
Providing convenient and fast care for common illnesses, Memorial Healthcare System's urgent care centers are a top choice for parents seeking non-emergency services in a hurry for their children. With locations in Hollywood and Pembroke Pines, the urgent care centers treat everything from cough and colds to simple sprains and fractures. Patients can walk in or book an appointment. Locations are open seven days a week.
Miami-Dade: Baptist Health Urgent Care
When kids need care at a moment's notice, Baptist Health Urgent Care is standing by to provide same day service. With 26 locations across the tri-county area, Baptist Health is a convenient way to receive quality care for illnesses and injuries including rashes, sprains and strains and more. Virtual visits with urgent care doctors are available 24-hours a day, seven days a week.
Palm Beach: After Hours Pediatrics Urgent Care
Regardless of whether it's a weeknight, Sunday afternoon or a holiday, After Hours Pediatrics' doors are open to provide quick medical care for babies up to age 21. Board-certified pediatricians provide high-quality illness and injury treatment and work closely with each child's pediatrician to ensure appropriate follow-up care. The facility also provides in-house digital x-rays and on-site laboratory services.
6250 Lantana Rd., Lake Worth
561-963-4874
http://www.afterhourspediatrics.com
Favorite Maternity Hospital 
Broward: Broward Health Coral Springs The Maternity Place
From its clinical expertise in delivery and neonatal care to the labor and delivery amenities, the maternity team at The Maternity Place is dedicated to the health and care of expectant moms, babies and families. Highlights include private labor and delivery suites, lactation support, couplet care, perinatal unit, level II neonatal unit and more. A special Celebration Package can be ordered to provide Mom some much-deserved extra pampering.
3000 Coral Hills Dr., Coral Springs
954-344-3000
Miami-Dade: Mount Sinai Medical Center
Adhering to the highest safety standards while providing top-notch care, the professionals at Mount Sinai Medical Center aim to provide mom and baby the best maternity experience possible. Features include comfortable labor and delivery rooms, hypnobirthing, breastfeeding support and a state-of-the-art level III NICU. Classes are also available, such as prenatal, preparing for cesarean birth and formula safety.
4300 Alton Rd., Miami Beach
305-674-2273
Palm Beach: Boca Raton Regional Hospital
Part of the Baptist Health system, The Toppel Family Place at Boca Raton Regional Hospital ensures that families receive a loving and healthy start in life. Private suites with modern amenities offer comfort to families, while the maternity team provides top-notch care. The department is equipped with a state-of-the-art security system and a level II NICU Unit. Support services include a pre- and postpartum program to meet the medical, emotional and psychosocial needs of expectant and postpartum women.
800 Meadows Rd., Boca Raton
561-955-7100
Favorite Pediatric Dentist/Orthodontist 
Broward (Tie): Dr. Sandra Brener
When it comes to happy and healthy smiles, Dr. Brener delivers. Committed to the oral health of children from infancy to adolescence, patients are welcomed in a warm, child-friendly environment designed specifically with kids in mind. Dr. Brener and her skilled team offer the most advanced techniques and are dedicated to providing a stress-free experience for children.
9720 Stirling Rd., Cooper City
http://www.coopercitypediatricdentist.com 
Broward (Tie): Sage Dental of Cooper City 
From pediatric dentistry and orthodontics to teeth cleaning and surgery, the professional team at Sage Dental has families covered. Using the latest clinical technology, the office provides a convenient one-stop-shop for a variety of dental care under one roof for all ages. Pediatric specialists provide care exclusively for children to fit their needs.
12129 Sheridan St., Cooper City
954-283-0468
Miami-Dade: Happy Teeth
Happy Teeth strives to make the whole family smile. Providing a range of treatment from general dentistry to oral surgery and orthodontics, Dr. Alejandro Rodriguez, DDS and his team are committed to providing exceptional service to patients.
7976 SW Eighth St., Miami
305-266-4544
Palm Beach: Bright Horizons Dental
As a skilled dentist, Dr. Arelis Martone provides state-of-the-art dental techniques and quality care to give her patients of all ages healthy, aesthetic smiles.A native of South Florida, Dr. Martone worked for several years as an Air Force Dentist in New Mexico before settling back to Florida.
5030 Champion Blvd., Boca Raton
http://www.brighthorizonsdental.com
Favorite Provider or Program for Special Needs
Broward: David Posnack JCC – Giborim Program
Giborim, translated to heroes in Hebrew, provides interactive experiences for campers ages 3-22 with autism, down syndrome, developmental delays and other disabilities. Adventures include in-house activities, field trips, special events, an inclusion program and more. David Posnack Jewish Community Center.
5850 S. Pine Island Rd., Davie
954-434-0499
Miami-Dade: Atlantis Academy
Providing a small, close-knit school environment, Atlantis Academy prepares students with learning differences for individual success. Programs are specifically designed for children who have learning difficulties or who may be struggling in their current school. Personalized attention and education programs allow for high levels of individualized support.
9600 SW 107 Ave., Miami
305-501-1523
http://www.atlantisacademy.com
Palm Beach: We Rock the Spectrum
When it comes to gyms catering to all kids, this one really rocks. We Rock the Spectrum offers classes and a sensory-friendly environment for kids with special needs as well as typically developing children. Through fitness and fun, kids increase strength, movement, sensory processing, communication, positive behavior, social interaction and self-care skill within an all-inclusive space.
223 S. US Highway 1, Tequesta
561-529-3559