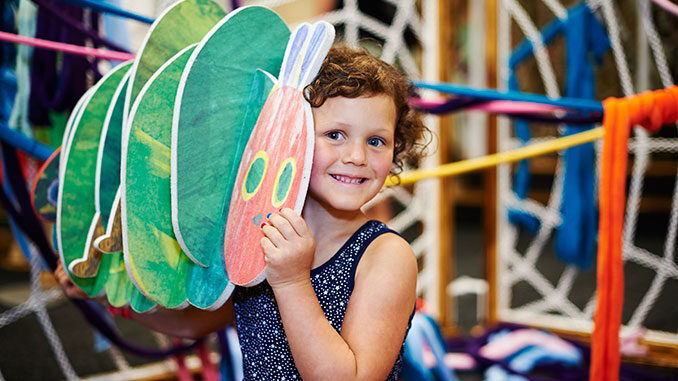 Exhibit celebrates Eric Carle's beloved books
Published: August 25, 2022
 Get your fill of fun beginning September 17, when the Very Eric Carle – A Very Hungry, Quiet, Lonely, Clumsy, Busy Exhibit kicks off at the Museum of Discovery and Science. 
The traveling exhibit, featuring hands-on activities inspired by five beloved books, The Very Hungry Caterpillar, The Very Quiet Cricket, The Very Lonely Firefly, The Very Clumsy Click Beetle and The Very Busy Spider, will be on display from September 17 through January 9. Kids can get familiar with all five insects as they take a journey of discovery by following the caterpillar on its path to becoming a butterfly, weaving a web, finding inner light, jumping and flipping with the click beetle, composing a night symphony and creating artwork mimicking that of Eric Carle.
While learning and having lots of fun, children also encounter recurring themes of friendship, creativity and the power of imagination throughout the exhibit.
The Very Hungry Caterpillar, Carle's best-known work about a hungry caterpillar that grows from egg to cocoon to a beautiful butterfly, has been translated into 66 languages and has sold over 50 million copies. 
The Museum of Discovery and Science is located at 401 SW Second St. in Fort Lauderdale. Access to the Very Eric Carle exhibit is included with paid museum admission. For more information, call 954-467-6637 or visit http://www.mods.org.