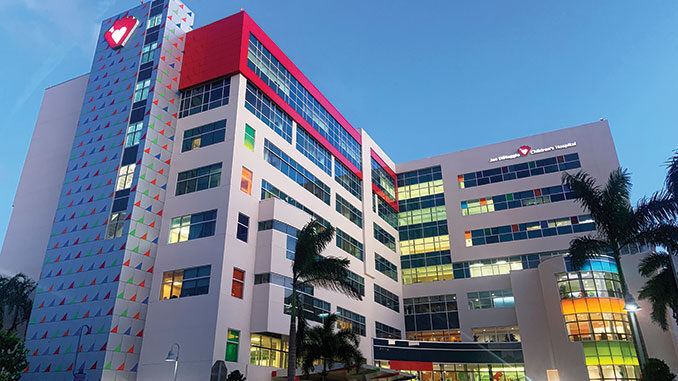 Published: October 27, 2022
With a brand-new, four-story expansion, the growth of Joe DiMaggio Children's Hospital will now allow for the care of even more children in a high-tech, child-friendly environment.  
"Everything we do and every decision we make focuses on what is best for children and families in our community. We listen to our patients, their families, pediatricians and the community in general, and incorporate this feedback into our growth plans," said Caitlin Stella, CEO of Joe DiMaggio Children's Hospital. "Our delivery of care and development of new programs and services are aligned with our commitment to creating and maintaining the highest standards of care for children; the care that they deserve."
The expansion from 180,000 square feet to nearly 400,000 square feet will meet the continuous demand for specialized services with new surgical capabilities, treatments and additional patient/family programs. The growth makes way for state-of-the-art private patient rooms, cardiac hybrid operating and procedure rooms, an ICU and cardiac ICU and additional surgical and interventional radiology suites. Other added features include novel technologies, a new inpatient rehabilitation gym, a patient classroom for ongoing education provided by Broward County Public Schools and more.
Among many accolades, Joe DiMaggio Children's Hospital has been ranked in the top 50 nationwide by US News and World Report Best Children's Hospitals for orthopedics, and cardiology and heart surgery. 
To learn more, visit http://www.jdch.com.