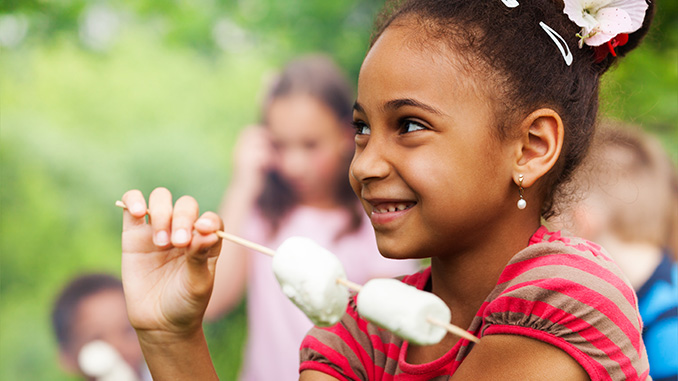 Looking for Summer Fun?
Published: February 27, 2020
Explore these outstanding options and target the perfect summer program for your kids.
The 2020 Miami-Dade County Camp Guide – including Day Camps, Overnight Camps, Creative Arts Camps, Education Camps, Specialty Camps, and more.
General Day Camps
Belen Jesuit Preparatory School
500 SW 127 Ave., Miami
786-621-4610
Belen Jesuit Preparatory School offers a six-week summer camp program for boys and girls ages 4-14. Activities include sports, swimming, field trips, nature hikes, storytelling, talent shows, guest speakers and more. 
Boys and Girls Clubs
305-446-9910
• Gwen Cherry, 7090 NW 22 Ave., Miami, 305-694-4889
• Hank Kline, 2805 SW 32 Ave., Miami, 305-446-2654
• Kendall, 9475 N. Kendall Dr., Miami, 305-279-3013
• Northwest, 10915 NW 14 Ave., Miami, 305-758-5753
• South Beach, 1200 Michigan Ave., Miami Beach, 305-535-0070
Children participate in an all-day summer enrichment program that focuses on social and cultural experiences, recreation, team-building, and educational activities. Activities include a computer lab, game room, arts and crafts, literacy classes, a movie room, physical fitness, field trips and more. 
Camp J at Alper JCC Miami
11155 SW 112 Ave., Miami
305-271-9000
Camp J Miami strives to build confidence, stretch imaginations and teach new skills. Campers from infants through grade 9 participate in age-appropriate favorites, including sports, art, swim instruction, field trips and more. Camp runs June 15-August 7.
Camp Klurman at the Miami Beach Jewish Community Center
4221 Pine Tree Dr., Miami Beach
305-534-3206
Camp Klurman is about making memories that last a lifetime. The program, for age 3 through 8th grade, includes traditional day-camp activities, field trips, Jewish culture and more. Camp runs June 8-August 14.
Camp Sol Taplin at the Michael-Ann Russell Jewish Community Center
18900 NE 25 Ave., North Miami Beach
305-932-4200
http://www.marjcc.org/campsoltaplin
Camp Sol Taplin features more than 20 camps serving children ages 2-15. Campers are encouraged to take a journey of self-discovery as they develop new skills and confidence. Activities include aquatics, art, dance, theatre, robotics, cooking, coding, cheerleading, sports and more. Camp runs June 8-July 31.
Deering Estate
16701 SW 72 Ave., Miami
305-235-1668
Deering's Spring Camp, March 23-27, encourages children ages 6-14 to splash into the world of marine biology by exploring the coastal and aquatic habitats near the estate. The locale also offers 10 weeks of summer camp fun with a variety of hands-on activities and discovery.
Miami Children's Museum
980 MacArthur Causeway, Miami
305-373-5437
http://www.miamichildrensmuseum.org
Children explore art, music, dance, performance, language, literacy and more through age-appropriate, hands-on activities.   
Miami-Dade County Parks & Recreation
305-755-7800
http://www.miamidade.gov/parks
The third-largest county park system in the United States offers a variety of fun-filled summer camp choices, including nature exploration, sports, aquatic adventures, performing arts and more. Visit the website for details. 
YMCA of South Florida Association Office
305-357-4000
http://www.ymcasouthflorida.org
Y Membership Family Centers:
• Homestead YMCA, 1034 NE Eighth St., Homestead, 305-248-5189
• South Dade YMCA Family Center, 9355 SW 134 St., Miami, 305-254-0310
• Upper Keys YMCA, 500 St. Croix Place, Key Largo, 305-453-3422 
• Village of Allapattah YMCA Family Center, 2370 NW 17 Ave., Miami, 305-635-9622
Kids can make new friends and have summertime fun while participating in sports, aquatics, arts, science, cooking, fitness, performances, leadership training and more. Each week features a new adventure. Call your local Family Center for details.
Specialty Camps
Indoor Soccer Pro
1128 NW 159 Dr., Miami Gardens
305-454-0900
http://www.indoorsoccerpro.com
Campers ages 5-14 can keep cool playing soccer on indoor, air-conditioned turf fields. The summer camp program includes indoor soccer training, weekly field trips, arts and crafts, movies, bubble soccer, XBox and more.  
Miami Seaquarium
4400 Rickenbacker Causeway, Miami
305-361-5705
http://www.miamiseaquarium.com
Kids ages 5-15 can enjoy sun-and-fun-filled days through education and conservation camps at Miami Seaquarium. Weekly programs vary by age and include animal interactions, animal shows, field & art activities and more. This year's themes are Marine Mysteries, Seaside Superheroes, Ocean Olympics, Tide Pooling Travels, Dinosaur Detectives and Counselor in Training.
Modeling Camp
Camp location: Doubletree Ocean Point Resort and Spa, 17375 Collins Ave., North Miami Beach
888-757-5575
Girls ages 11-17 can learn about modeling through workshops, photoshoots and more. The program culminates with a graduation fashion show. June 23-26.
Phillip and Patricia Frost Museum of Science
1101 Biscayne Blvd., Miami (Downtown)
305-434-9600
Children can decode the hidden math and science of nature's beauty during a week-long Spring Camp on March 23-27. The fun continues throughout the summer when campers explore the wonders of science through hands-on activities during week-long themed camps. Summer Camp themes include chemistry, engineering, marine biology,  technology and more.
The Academy at Dezerland Park
14401 NE 19 Ave., North Miami
786-590-500
Camps keep kids entertained with active programs that include karate, dance, aerial silk, parkour, ninja training, art, music and more. Activities are designed to encourage motivation, engagement and socialization skills. 
Topgolf
11850 NW 22 St., Doral
305-424-5110
http://www.topgolf.com/miami-doral
The Topgolf Spring Academy, March 23-25, is three days of non-stop entertainment, and learning designed specifically with kids in mind. Camp teaches a variety of skills, from chipping, putting and full swing to rules and etiquette. A summer program is also available. 
Zoo Miami
12400 SW 152 St., Miami
305-251-0400
Zoo Miami camps are a stampede of fun, combining education and entertainment, creating an opportunity for kids to learn about wildlife and environmental conservation and to meet new friends. 
Performing Arts
Area Stage Company
5701 Sunset Dr., Miami
305-666-2078
http://www.areastagecompany.com
Broadway Bites, a musical theatre summer camp for kids ages 5-18, provides week-long performance intensives where students will hone their singing, dancing and acting skills while working with experienced instructors. Campers can participate in any or all of the 10 unique, weekly sessions. 
Special Needs Camp
Camp Erin

 
Located at Camp Owaissa Bauer, 
17001 SW 264 St., Homestead 
305-351-7026
http://www.camperinsouthflorida.org 
Created and funded by The Moyer Foundation, Camp Erin is a nationwide network of free bereavement camps for children and teens ages 6-17 who have experienced the death of someone close to them. The weekend-long experience consists of camp activities combined with grief education and emotional support, facilitated by grief professionals and trained volunteers. Camp takes place on March 20-22.
Easterseals South Florida
305-325-0470
http://www.easterseals.com/southflorida
Offers a variety of free summer camp programs for children and adolescents with autism and other related disabilities.
Miami-Dade County Parks & Recreation Disability Services Camps
305-755-7848
http://www.miamidade.gov/parks
Sponsored by The Children's Trust, children and young adults with disabilities are offered enriching camp experiences in sports, swimming and arts and crafts at a variety of Miami-Dade County Parks & Recreation locations. 
The Children's Trust
305-571-5700
http://www.thechildrenstrust.org
The largest funder of after-school, youth enrichment and summer camp programs in Miami-Dade County, this organization offers a wide range of services, programs, and camps for children with special needs.
City Camps
Many cities offer a range of fun-filled camp programs to keep kids engaged and entertained all summer long. Activities range from sports, dance, and science to field trips, art, and aquatic adventures. Explore the city of your choice for details.
Aventura

 
305-466-8008
Bay Harbor Islands
786-646-9970
http://www.bayharborislands-fl.gov
Biscayne Park
305-893-3711
Coral Gables

 
305-460-5600
Cutler Bay
305-238-4166
Doral

 
305-593-6600
Hialeah
305-687-2650
Hialeah Gardens
305-558-2331
http://www.cityofhialeahgardens.com
Homestead
305-224-4570
http://www.cityofhomestead.com
Key Biscayne
305-365-8900
Miami
305-416-1300
Miami Beach
305-673-7730
Miami Gardens
305-622-8000
http://www.miamigardens-fl.gov
Miami Lakes
305-364-6100 
Miami Shores
305-758-8103
http://www.miamishoresvillage.com
Miami Springs
305-805-5075
http://www.miamisprings-fl.gov
North Miami
305-895-9840
North Miami Beach
305-948-2957
Opa-locka
305-953-2875
Palmetto Bay
305-259-1234
Pinecrest

 
305-234-2121
South Miami
305-668-3876
Sunny Isles Beach
305-792-1799
Surfside
305-866-3635
http://www.townofsurfsidefl.gov
Sweetwater
305-551-4774
http://www.cityofsweetwater.fl.gov
West Miami
305-261-5566
http://www.cityofwestmiamifl.com
Sleep Away Camp
Valley View Ranch Equestrian Camp 
606 Valley View Ranch Rd., Cloudland, Georgia  
706-862-2231
http://www.valleyviewranch.com 
A horse lovers' paradise since 1954 atop Lookout Mountain, for 50 girls, ages 8-17; 600 acres, English, Western, Barrels, Vaulting, and Trails. Beginner to advanced riders. Spend 4-6 hours daily with your own camp horse or bring your own. Classes and programs are taught using the Certified Horsemanship Association guidelines. Family-operated by three generations of horse lovers, camp administrators, and equine educators.