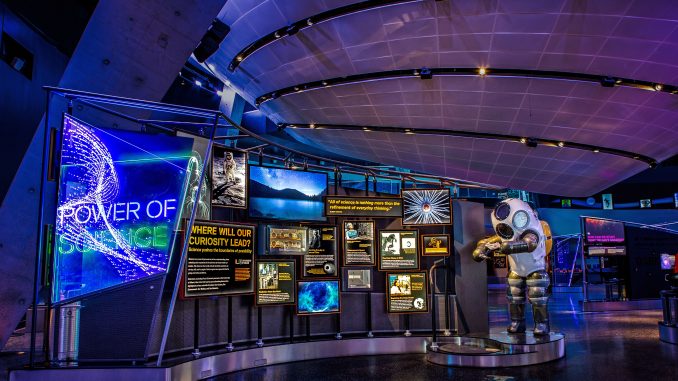 Visitors can experience the scientific process and learn about our oceans, environment and outer space at the new permanent exhibit at the Frost Museum of Science in Miami.
Published: August 3, 2021
By: Jennifer Jhon
Author Email: Click to Contact
A permanent exhibit at the Phillip and Patricia Frost Museum of Science in downtown Miami invites guests to step into the shoes of researchers, explorers
and inventors through a series of hands-on, interactive elements.
The Power of Science exhibit, which took over the former MeLaB space in the Frost Science museum's Ocean Gallery on Level 1, explores how science pushes the boundaries of possibility in four areas: Our Oceans, Our Environment, Our Bodies and Our Universe.
The exhibit uses cutting-edge interactive activities, rare specimens, a deep dive into the periodic table of elements, and a showcase of scientific instruments to show how science solves problems. The Power of Science also encourages visitors to experience the scientific process by asking questions, gaining insight and overcoming challenges.
Visitors can experiment with attraction and repelling on the interactive floor, play a game to save Florida's shoreline and picture themselves in a hurricane. 
The oceans section highlights the new technology that empowers scientists to dive deeper than ever before, with a convenient selfie station for pictures, as well as our oceans' health and global interconnection.
The inner workings of our bodies and the dynamic nature of outer space, including the potential of life on other planets, are also explored in the exhibit.
The Power of Science is included with regular Frost Science admission, along with the museum's other popular exhibits, such as the MeLaB, the three-level aquarium, the 250-seat planetarium and more. 
The Frost regularly displays new visiting exhibits inside the Hsiao Family Special Exhibition Gallery, and different films are shown daily in the planetarium. For more information, visit http://www.frostscience.org.