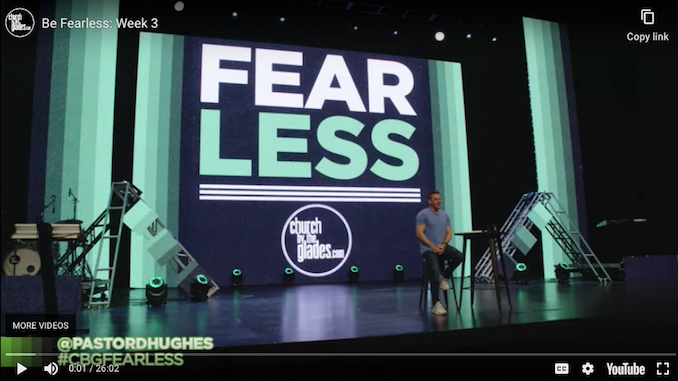 With South Florida's shutdown, life has moved online, and religious services are part of that virtual shift.
Published: April 8, 2020
By: Jennifer Jhon
Temples and churches throughout South Florida are turning to the Internet to reach their congregations, giving people much-needed messages of hope, especially during the Passover and Easter season.
Although some, like St. David Catholic Church in Davie, are new to livestreaming, Church by the Glades (known for its slogan of "No Perfect People Allowed") and Temple Beth Orr of Coral Springs are veterans. But the quarantine has pushed their online efforts to a new level.
Temple Beth Orr's livestream was fairly successful before the quarantine, especially with elderly members and those who were sick, said Jan Catalfumo, the temple's executive director. But "the moment that the rabbi started to livestream when we closed the temple, it was over 100 percent more connection than when we do a regular livestream," she said. "The connection has been even more powerful."
Temple Beth Orr streams on its website, http://www.templebethorr.org, and on Facebook @TempleBethOrr. For the Shabbat Service this Friday, April 10, the temple has posted a digital prayer book on its website for viewers to follow along. It will also be Zooming during the 6:30 p.m. service with Rabbi Marci R. Bloch.
"You lose connectivity when you aren't coming back to the temple, and we don't want that to happen," Catalfumo said. "We want to continue to engage."
Church by the Glades, with locations in Coral Springs and Lake Worth, has transitioned its plans for Easter online. "We had planned to have a massive choir on stage," said Mike Critch, the church's online campus pastor. "We're still going to do that massive choir, we're just going to do it virtually."
The Easter service will stream every hour on the hour from Saturday, April 11, at 6 p.m. through midnight, and Sunday on the hour every hour from 9 a.m. to midnight.
"We're celebrating the biggest event in history," Critch said. "We're trying to make it easy for people to find it, access it, enjoy it, share it and watch it again."
Church by the Glades has been livestreaming at live.cbglades.com since 2011. "We want to use all possible means to reach everyone in the world," said Critch. "Whether they are in Coral Springs or around the world, we want them to be able to experience what we do at Church by the Glades."
He said the church, which before streamed to the website and Facebook Live @CBGlades, has shifted focus now that virtual connection is the best option. "When this pandemic started, we expanded to include a YouTube Live experience and Instagram Live."
They aren't just streaming into the void. "With each of those online experiences, there is a chat room … and [volunteers] are interacting with the experience, so they are talking with people who are watching this live."
He said the audience is worldwide. "People are finding us who haven't found us before and they're connecting … in a brand-new way."
The church has started a weekday program, Fearless 5, with Pastor David Hughes, who livestreams a five-minute devotional, five days a week, at 5 p.m. "Pastor David gets online and shares an inspirational message filmed from home," Critch said. Every message is different, allowing people to connect virtually every day. "We hope people can receive these messages, connect with us, and are able to come out of the coronavirus on the other side, having not only survived but grown a little bit during their time in quarantine," he said.
Learning to Improvise
St. David's Catholic Church, known for its spring and fall carnivals at its campus on University Drive in Davie, is new to the world of streaming and had to work quickly to make the transition, a priest at the church said.
"We ended up recording the first mass we posted online. We recorded it from one of the priest's cellphones here," Father Steven O'Hala said. He said the priests worked with a couple of the music ministers to record the service. "Fortunately, we had an idea of what's available. It actually came out OK."
Since then, the church has started livestreaming with Vimeo. A couple of church's parishioners were already working with livestreaming, and they had the equipment, O'Hala said.
"We were able to do the livestreaming because of that. Otherwise, we're making do with what we have. Who's got an iPad?" he joked.
He said they have learned a lot, and learned quickly, in a short time. "It seems so long ago now. It's been a few weeks, but it seems ages ago."
St. David's is now livestreaming its Sunday masses and its Saturday night vigil at 5 p.m. "Otherwise we prerecord," O'Hala said. "We do that with our daily masses from our rectory chapel. … We also did a version of the Stations of the Cross online."
St. David's services, including a Mass of the Lord's Supper livestream at 6 p.m. Thursday, and a Service of our Lord's Passion and Death at 3 p.m. Friday, as well as Easter services, are online at http://www.saintdavid.org/church and on Facebook @saintdavidcatholicchurch.
It is working on more digital offerings. "That's one of the things that I'm realizing," O'Hala said, "that a lot of people are realizing: These are resources that were way underused."
He said response from St. David's parishioners has been very good. "People are thanking us." Because people are seeing their own priests at the altar, "they can they feel like they're participating in their church," O'Hala said. "They felt like they've become closer to the church because of that."
Keeping Kids Involved
Services aren't the only things going digital. Kids programs are online as well.
At Temple Beth Orr, "early childhood is doing their livestream daily, engaging the kids, reading stories. It's really very animated," Catalfumo said. "The teachers are doing a phenomenal job keeping the kids connected."
The youth programs had an edge when the shutdown began, she said. "The youth group director had the most traction earliest because the kids are into all the things they do on social media. They were already set up to do that."
The temple is also streaming its religious school classes online, and Rabbi Bloch is streaming "Morning Moments" Live on Facebook 9:30-10 a.m. Monday through Friday to connect with members.
At Church by the Glades, the children's ministry team is reaching out to families through social media and email, Critch said. "Usually we have a highly creative, highly energetic kids experience that reflects our main service." But with that out of play, he said, the team is putting together digital weekend experiences and lessons for the kids, and has created a separate worship channel during the week.
Sharing Hope
With its long history of livestreaming, Church by the Glades has a deep archive of messages and services posted on its website and Facebook.
"We highly encourage binge-watching church," Critch said. "Our production team, our video team, they've done a great job of putting these experiences together and making them excellent."
The messages provide the encouragement, inspiration and hope that is needed at this time, he said. "There's a lot of anxiety out there. People can change the channel and find us."