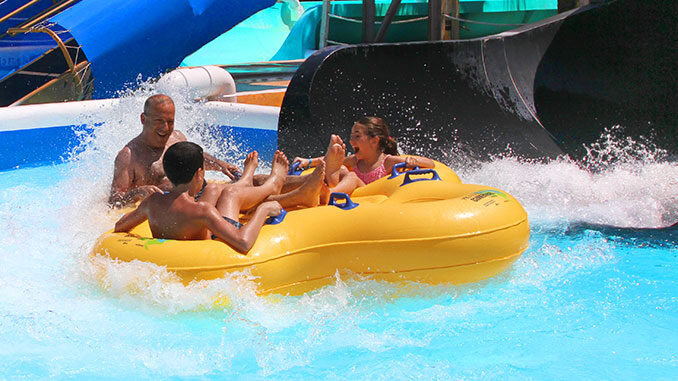 Whether you live in Broward, Miami-Dade or Palm Beach County, here are three favorite places to swim and splash with your family
Published: August 23, 2022
School may be back in session, but that doesn't mean the fun has to stop! In sunny South Florida, it's always good to know where to kick back and cool off with the family. Whether you live in Broward, Miami-Dade or Palm Beach County, here are three favorite places to swim and splash.
Broward: Paradise Cove at C.B. Smith Park
One of the county's largest water parks, Paradise Cove is a splasher's Shangri-La. There are two interactive water playgrounds with smaller slides: Parrot's Point for the 5-and-under set, and Sharky's Lagoon for all ages. And when you want a break from all the splashing, you can meander down the Crazy Creek tube ride. Some areas have been closed, so be sure to check before you go.
Location and Contact Info
900 N. Flamingo Rd., Pembroke Pines
954-357-8115
Operating Hours for 2022

10 a.m. to 5:20 p.m.


Open weekends only (Saturday/Sunday) in April, May, and on June 4 and 5

Open on Memorial Day, Monday, May 30

Open seven days a week starting Friday, June 10 through Monday, August 15

Open 

weekends only 

(Saturday/Sunday) from Saturday, August 20 through Sunday, October 30
​Open Labor Day ​Monday, September 5​
Fees
$8/person for all-day admission​ and $5.75/person after 3 p.m.
Free admission for children under 1 year of age 
Please note, the park's regular gate entrance fee of $1.50/person (children 5 and under free) is also in effect on weekends and holidays. ​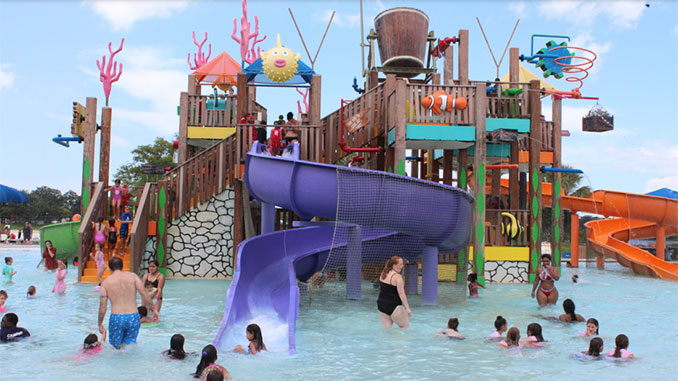 Miami-Dade: Venetian Pool
In pool-happy South Florida — or pretty much anywhere in the country — you'll likely not find another pool like the Venetian. Not only was it created in 1923 from a coral rock quarry and embellished with the original coral rock, it's filled (and drained daily, in season) with 820,000 gallons of spring water from an underground aquifer. There are waterfalls, grottos, porticos and two scenic lookout towers. To jump in, you need a ticket (www.playgables.com) and you must be at least 3 years old and 38 inches tall.
Location and Contact Info
2701 de Soto Blvd., Coral Gables
305-460-5600
Operating Hours
• Sunday: 10:00 am-4:30 pm
• Monday – Friday: 11:00 am-5:30 pm
• Saturday: 10:00 am-4:30 pm
Please note: Venetian Pool will be closed in December and January.
Fees
Non-Residents Rates (Memorial Day weekend through Labor Day):
Adults (13 years and older): $21
Child: (3 – 12 years) $16
Non-Residents Rates (Sept. 6 – Nov. 27):
Adults (13 years and older): $16
Child: (3 – 12 years) $11
Coral Gables Resident Rates (Year-round):
Adults (13 years and older): $6.50
Child: (3 – 12 years) $5.50
Please note, proof of Coral Gables residency is required for all adults at time of admission to qualify for the resident discount.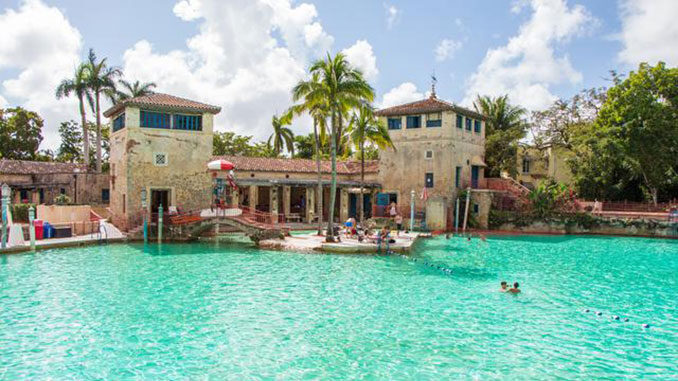 Palm Beach: Rapids Water Park
Pretty much any kind of wet and wild fun to be had can be found at South Florida's largest water park. There are 42 slides and attractions — Thrill Rides, Family Rides and Kid Rides — including high-speed water racers, giant drop slides, a FlowRider, a lazy river, a wave pool and a water obstacle course. The kiddies have their own Splish Splash Lagoon and smaller slides. Located just north of West Palm Beach, the park offers plenty of food and beverage options. Lockers and season passes are available.
Location and Contact Info
6566 N. Military Trail, Riviera Beach
561-848-6272
http://www.rapidswaterpark.com
Operating Hours
Visit https://www.rapidswaterpark.com/park-hours/
Fees
Visit https://www.rapidswaterpark.com/tickets-and-passes/daily-tickets/