Category: Animal Adventures, Attractions and Museums, Outdoor Adventures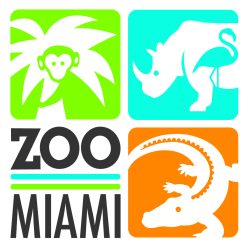 Zoo Miami (also known as The Miami-Dade Zoological Park and Gardens) is the largest zoo in Florida and the fifth largest in the United States. As the only sub-tropical zoo in the continental U.S., the unique climate in South Florida allows us to care for a wide variety of animals from Asia, Australia, Africa, and the Americas representing a broad mix of species that is unlike any other zoo in the country.
Our animals are grouped according to their geographic territories, with species that live together peacefully in the wild placed in exhibits together here at the zoo. Our trees, foliage, and even our soil are matched as closely as possible to the native habitats of our animals.
Zoo Miami today occupies almost 750 acres, 4 miles of walkways, and is home to more than 2,500 animals representing over 400 different species. Of this population, more than 130 species are at risk in the wild; many classified as endangered or critically endangered. The zoo also houses more than 1,000 species of trees, palms and other plants, and over 100 special exhibits showcasing a broad number of species and scientific topics.
Zoo Miami is proud to be an active leader in many global wildlife and environmental conservation initiatives, and we are currently involved in about 30 programs annually across five continents.
Our mission: Share the wonder of wildlife and help conserve it for generations to come.
Address:
12400 SW 152 Street, Miami, FL 33177
Phone:
(305) 251-0400
Email:
Click to email us.
Web:
Click to visit us online.
Venue Type:
Zoological Park, Botanical Garden, Birthdays, Weddings, Corporate Picnics, Family Reunions
Hours of Operation:
Open daily from 10 AM - 5 PM (last ticket sold at 4 PM)
In Business Since:
1980
Insured Venue:
Yes
Services Provided:
Animal Experiences, Animal Presentations, Lush Tropical Gardens, Playground, Kids Splash Zones, Keeper Talks, Endangered Species Carousel, Slow River Boat Rides, Arts and Crafts for Animal Enrichment, Zoo Mascots, Education Programs, Zoo Camp, and More!
Price Range for Services:
$19 - $23
Packages Available:
Group Discounts
Refreshments Served:
Zoo Miami offers a variety of dining options. Nourish 305 is an indoor air-conditioned restaurant with made-to-order salads, flatbreads, and wraps. Other options include Ellie's Cafe, Miami BGR, Miami ICE, Oasis Grill, Oasis Outpost, Dippin' Dots, food and beverage carts, and vending machines.