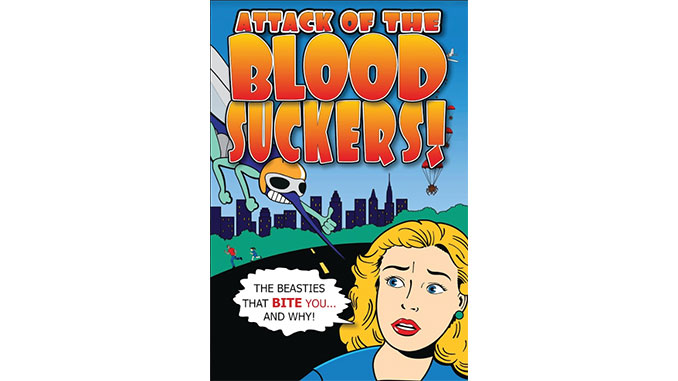 Creepy-crawlies make for interesting, icky specimens in "Attack of the Bloodsuckers!" — a new exhibit perfectly named for Halloween season at the Museum of Discovery and Science in Fort Lauderdale. It's accompanied by another new critter-conscious exhibit, Turtle Travels. 
Biological wonders of the little beasties that bite us — mosquitoes, fleas, ticks, leeches and other parasites — are explored through encounters with live species and hands-on activities in the kid-friendly exhibit. It's an interactive experience that lets visitors closely observe a variety of blood-feeding parasites and learn why they are important to the ecosystem — and how to keep them out of our systems. 
The exhibit will allow visitors to:
Look a real leech in the mouth
Test their bug-appealing foot odor
Spin their way through a mosquito's life cycle
Receive a big hug from a giant, inflating tick
Get itchy and knotty with a life-size game of "Twitcher"
Visitors may not want to make friends with these critters, but they may have more respect for them after experiencing this unusual exhibit.
More friendly creatures, however, are the subject of MODS' other new exhibit, "Turtle Travels," which is a complement to the museum's many turtle inhabitants and sea turtle release program.  
The hands-on exhibit allows visitors of all ages to discover what it's like to be a turtle —  how turtle bodies adapt themselves to many different habitats, why turtles need shells, the kinds of hazards they encounter in the wild and why turtles have been important to many different cultures.
The interactive stations allow visitors to try on shells, migrate on a gigantic board game, experience "turtle vision," design a turtle-friendly housing development and more. The conservation research featured in the exhibit is focused on sea turtles on South Florida beaches, and helps to save the endangered creatures not only here but
 around the world.
Both exhibits are free with admission to the museum, at 401 SW Second St. For more information, call 954-467-MODS or visit www.mods.org
But wait… there's more!
Flight and aviation, already lofty subjects at MODS, are being taken to new heights with the opening this month of The Leighton Family Hangar, an innovative, aviation-themed, high-tech makerspace that turns the popular To Fly Aviation Exhibit Hall into the museum's largest area.
The only one of its kind in Broward County, The Hangar encourages visitors to roll up their sleeves and tinker. A fusion of science lab, engineering and innovation workshops, and art room, it's designed to accommodate various collaborative activities, from robotics and electronics to sewing and 3D printing. 
Among several other new To Fly exhibits is Inspiration Takes Flight, a 7D-film that combines 3D imagery with water sprays, bubbles, mist and a motion-effect simulator. Included with museum admission, The Hangar officially opens Oct. 4 with a ribbon-cutting at 10:30 a.m.