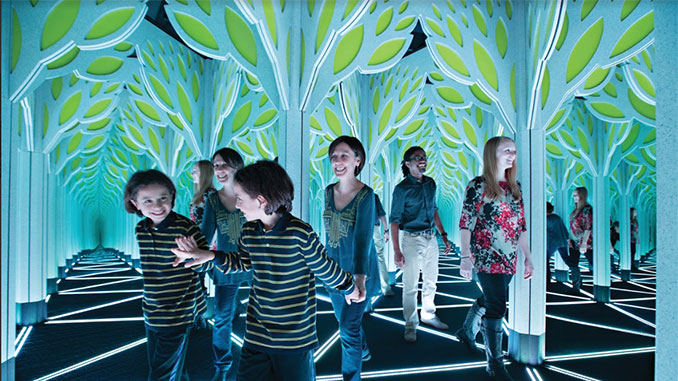 Who says math isn't fun? 
In the centerpiece of "A Mirror Maze: Numbers in Nature" at Phillip and Patricia Frost Museum of Science, guests lose themselves in a seemingly infinite symmetry of repeated reflections. Dead-ends are scattered throughout the mirror maze, and hidden within it is a small, secret room with bonus puzzles and artifacts. 
The maze is a fun, fascinating way to introduce guests to the mathematical patterns that surround us every day. Various interactive elements allow for hands-on learning to appreciate the beauty of our world through numbers, from the nested spirals of a sunflower's tiny seeds to the layout of the entire universe. 
The exhibition also features an immersive theater depicting stunning footage of nature, the human body and art and architecture, and also features artifacts like honeycombs that demonstrate patterns in the natural world. Activities enable guests to manipulate and create their own mathematical patterns — such as measuring their own wingspan, viewing their own eye's blood vessels and creating computer-generated landscapes as seen in movies. 
Additional interactive highlights include:
Drawing patterns on a digital screen and seeing real-world objects that show that same pattern.
Observing the symmetry — or lack thereof — in the human face.
Composing a piece of music by varying a single motif and hearing it played back.
Comparing similar patterns in architecture from varying parts of the world built millennia apart.
Want to go?
What: "A Mirror Maze: Numbers in Nature" 
Where: Hsiao Family Special Exhibition Gallery at the Phillip and Patricia Frost Museum of Science, 1101 Biscayne Blvd., Miami
When: Oct. 12 through April 12, 2020 
Cost: Included with museum admission tickets — $29.95/adult, $20.95/ages 3-11, free/ages 2 and under. $2 ticket discount online. 
For more information: 305-434-9600, or visit www.frostscience.org/mirrormaze