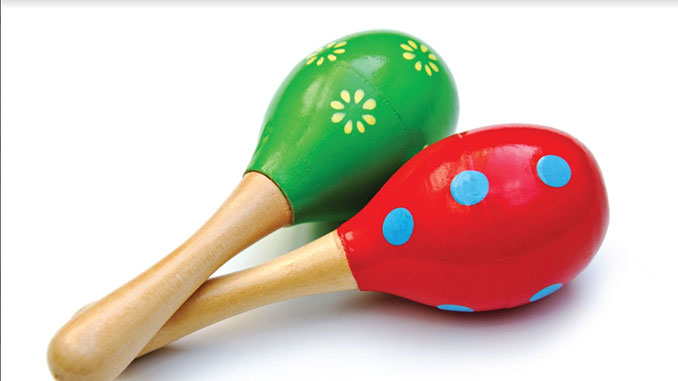 From art exhibits and film series to fiestas and playgroup fun, there are many ways throughout the county for families to celebrate Hispanic Heritage Month, which runs from Sept. 15-Oct. 15. 
SENSORY SUNDAY: FANTASTIC ¡FIESTA! — All ages are invited to celebrate in the "Musical Shakers" workshop, "Frida Flowers" station and Move-it-Sunday musical movements and dances:
Sept. 8, 10am-noon, free with museum admission, Young At Art Museum, 751 SW 121 Ave., Davie, 954-424-0085.
HISPANIC HERITAGE MONTH ART EXHIBIT — "Art Expression of France and Argentina":
Sept. 8-Oct. 14, NSU Alvin Sherman Library, 3100 Ray Ferrero Jr., Blvd., Fort Lauderdale, 954-262-4600. 
PAPER BUTTERFLY CRAFT — Using paper plates and tissue paper, make a blue morpho butterfly, which lives in the rainforests of Central and South America:
Sept. 14, 2pm, free, all ages, no registration required, Miramar Branch Library, 2050 Civic Center Place, 954-357-8090.
HISPANIC HERITAGE FILM SERIES — Sept. 16, 23 and 30, 1-3:30pm, Stirling Road Branch Library, 3151 Stirling Rd., Hollywood, 954-357-7533.
ART WORKSHOP FOR CHILDREN WITH MARIA CRISTINA MUÑOZ — Create artworks inspired by Picasso, Joan Miro and Frida Kahlo:
Sept. 18, 4-5pm, space is  limited, call to register, Sunrise Dan Pearl Library, 10500 W. Oakland Park Blvd., 954-357-7440.
BILINGUAL TODDLER STORYTIME — Stories, songs and rhymes in English and Spanish, for ages 12-35 months:
Sept. 19, 11:30am-noon, Weston Branch Library, 4205 Bonaventure Blvd., 954-357-5430.
¡VIVA PLAYGROUP FUN! — Celebrate the month with fun, for ages up to 2 years:
Sept. 19 and 26 and Oct. 3 and 10, 11:15am-noon, Hollywood Branch Library, 2600 Hollywood Blvd., 954-357-7785.
MEXICAN SKULL ART COLORING — Use coloring sheets to create decorative skull art, for teens:
Sep. 19, 4-5pm, Jan Moran Collier City Learning Library, 2800 NW Ninth Ct., Pompano Beach, 954-357-7673.
BAILANDO CARNAVAL @ BIBLIOTECA — Music and dance, for ages 3-6:
Sept. 20, 10-11am, North Regional/Broward College Library, 1100 Coconut Creek Blvd., Coconut Creek, 954-201-2626.
HISPANIC HERITAGE MONTH OPENING ART RECEPTION — Exquisite art pieces, live music and food:
Sept. 20, 6pm, free, Bailey Hall at Broward College, 3501 Davie Road, Fort Lauderdale, 954-201-6259.
LATIN FEST — A free community celebration of Latin culture through food, drink, music and dance:
Sept. 20, 6-10pm, Jaco Pastorius Park, 4000 N. Dixie Hwy., Oakland Park,  954-630-4500. 
HISPANIC HERITAGE CELEBRATION! — Entertainment, food and more, for all ages:
Sept. 28, 2-3pm, West Regional Library, 8601 W. Broward Blvd., Plantation, 954-765-1585.