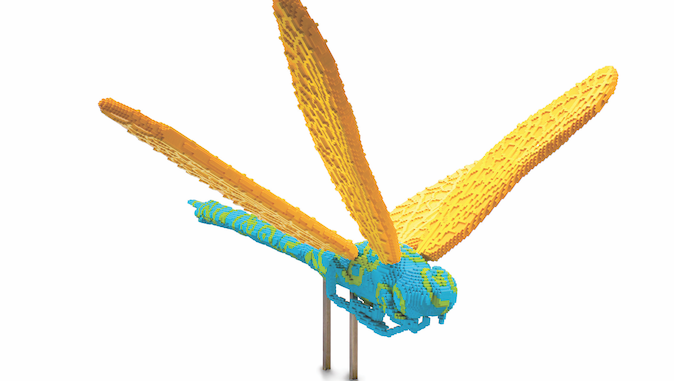 Sean Kenney's exhibit boasts larger-than-life Lego sculptures at Flamingo Gardens
Published: May 1, 2023
A showcase of art, science, innovation and inspiration, Sean Kenney's award-winning exhibit, Nature POP! features 44 highly-stylized sculptures made of more than 800,000 Lego bricks.
Created around themes of preservation and conservation, Kenney's latest exhibit highlights nature and its beauty through colorful displays intended to pop in contrast to their natural, earth-tone surroundings. Inspired by the pop art movement, the exhibit draws from a belief that everything is interconnected, including nature. The vibrant pieces will add to the atmosphere of Flamingo Gardens' grounds and gardens from May 27 through September 4.
The exhibit opens this month with a special Memorial Day weekend event. Additional activities that weekend will include entertainment, kids' corner projects and themed activities on May 27, 28 and 29. Other special event weekends scheduled throughout the summer include the Featured Creatures Weekend on June 17 and 18, Nature POP! Art Weekend on
July 15 and 16, Back 2 School Weekend on August 12 and 13, and Labor Day Weekend on September 2, 3 and 4.
Sculptures featured in Nature POP! will include a polar bear, lion, dog, snow leopard, rabbits, dragonflies and many more. Flamingo Gardens also features a narrated tram tour, the Wray Home Museum, a Wildlife Encounter Show,
Butterfly Conservatory, Arboretum, gallery exhibits and more. The presence of the exhibit is designed to engage young brick-building enthusiasts and inspire acts of art, preservation and conservation.
In addition to Nature POP!, there are several hands-on Lego-themed events, activities and programs throughout South Florida to foster your child's interest. Your local library is a good place to start the search. Call or go online to see what building sessions or Lego clubs your branch may offer. There's also Bricks 4 Kidz, a program that promotes play while sparking an interest in science, technology, engineering and math. First Lego League is another program that guides youth through STEM learning and exploration. And, of course, there is Legoland, our not-so-distant neighbor to the north — a must-see attraction for any Lego lover.
Nature POP! will be on display daily from 9:30 a.m. to 4:30 p.m. May 27 through September 4 at Flamingo Gardens, 3750 S. Flamingo Rd. in Davie. The exhibit is included with paid admission of $21.95 for ages 12 and older, and $15.95 for ages 3-11. Children 2 and younger are admitted free.
For more information, call 954-473-2955 or visit http://www.flamingogardens.org.