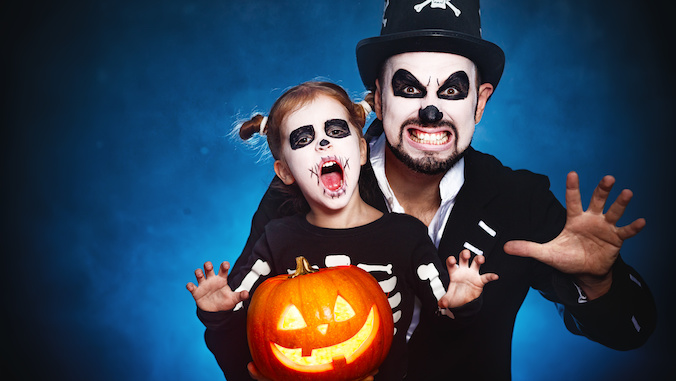 Safe and spooky ways to celebrate this year's extreme D-I-Y Halloween with your family.
Published: September 29, 2020
By: Jennifer Jhon
With social distancing, this year is an extreme D-I-Y Halloween, and we've got tips to help you have a scarily good time.
For many families, Oct. 31, 2020, was destined to be an extended celebration. Falling on a Saturday, the revelry would continue into the night, complete with a full moon rising. 
But, due to the pandemic and social distancing restrictions throughout South Florida, upcoming Halloween plans now look frightfully different from what was anticipated. Most fall festivals and community Halloween celebrations have been canceled, and long-standing block parties in many neighborhoods have been called off. And, much to the disappointment of kids throughout South Florida, trick-or-treating is also off the menu for many families because of concerns about COVID-19. But all is not lost. The good news is that there are still many ways to make this Halloween spooktacular.
Kayla Reed of Davie has an 8-year-old daughter and a 2-year-old son, and they are big fans of Halloween.
 "Usually we have a Halloween party and go trick-or-treating. We won't be doing either this year, so everything is changing," she said. "My plan for this year is to decorate our home like a haunted house, play spooky music and have them hunt for Halloween baskets filled with treats."
She said they definitely won't be trick or treating, even if the opportunity is presented. "My mom is immune-compromised, so we have to be extra cautious." Instead, she and her husband will give the kids clues to find their candy inside the house and watch Halloween movies. "Hocus Pocus is my favorite," Reed said.
Ileana Mesa-Rojas of Miami is also planning a Halloween at home, with a scavenger hunt and other fun for her four kids. Her sister and her two children will join them.
"We are planning to have desserts (decorate your own cupcakes/cookies) along with some Pinterest-inspired goodies. We will play music and dance with glow sticks and a black light," she said. "But for the scavenger hunt, I figured they can go all around the house and backyard picking up clues with candies, little trinkets or gifts."
Costumes will also be part of the night. "Since we are a family of six, I was hoping to get everyone on board to do a super hero theme," Mesa-Rojas said. 
Got your costume? Enter our Halloween Costume Contest for a chance to win prizes!
Latoya Bramble of Fort Lauderdale has four children, and an activity they used to do might help families capture the excitement of trick-or-treating for their kids this year. "When my kids were little, I had them go door to door in my house," Bramble said. She said she and three of her kids would get behind different doors in the house, while the fourth child knocked on each door to receive the candy. "We all took turns," she said.
Some families are planning to stay as close as possible to tradition. "I'll be outside handing out candy like usual," said Christine Sheflin of Coral Springs. 
She will change to handing out bags of candy this year as opposed to kids reaching into the trick-or-treat bowl.
"I think for the limited time period that we interact with the kids — coupled with the fact that we will be outside — it will keep it safe enough for these kids to enjoy their usual Halloween," she said.
"COVID has taken so much from them already, I don't think it's fair, or necessary, to eliminate this beloved outdoor tradition."
For those missing the opportunity a Saturday night Halloween presents, there is some solace. Next year's Halloween is on a Sunday, which is still technically a weekend day, and another Saturday Halloween is coming — in 2026.