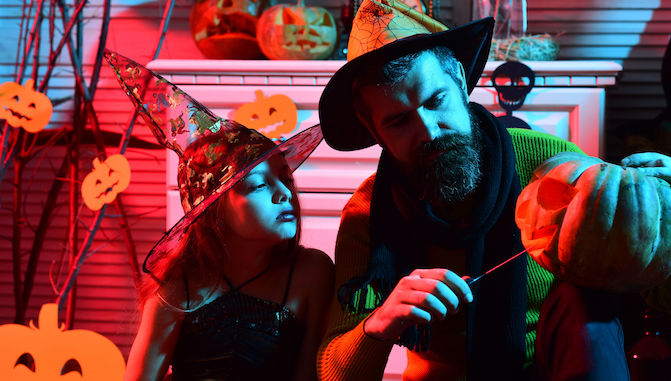 We're all looking for ways to make the most of 2020's stay-at-home Halloween. Here are some ideas to help create Do-It-Yourself celebrations.
Published: September 30, 2020
By: Jennifer Jhon
Trick-or-treating might be off the menu, but here are some ways to help make Halloween 2020 better than ever:
Decorate big, and decorate early. Halloween décor is the best, with lots of glow-in-the-dark and spooky elements, and lots of it is easy to make. Go all out. 
Get crafting.

Red Ted Art

has a list of 50 Easy Halloween Crafts that you can do with your kids, and that's just a start.

Pintrest

has many more ideas. 
Plan more than one party. Parties are a great excuse to dress up and have fun, even if it is just your family. Try a pumpkin-themed party, a spooky dance party, a candy factory party … the possibilities are endless.
Celebrate with a costume, or four. Stage a costume event complete with wardrobe changes so kids (and adults) can enjoy taking on a new persona, if only for a few hours. Take pictures and challenge your friends and family to a visual riff-off to keep the fun going. And don't forget to enter our Halloween Family Costume Contest to win prizes!
Bring on the sweet stuff. NOT being able to get bags full of free candy – with the anticipation of "what's it going to be?" at every door – is going to be crushing for the younger set. Set up a scavenger hunt, pumpkin pinata, or indoor trick-or-treating at all the doors inside your home.  We've got more ideas from other South Florida parents here.
Glow-in-the-dark fun. Make the most of the darker side of the holiday with a glow-stick dance party, glowing egg candy hunt, or a

black light slime

and bubble party.
Movie scare-athon. Clear the couch and gather your popcorn and candy for a night of movie magic. Hocus Pocus, The Nightmare Before Christmas, E.T. and It's the Great Pumpkin, Charlie Brown are classics, but check out the Hotel Transylvania and Goosebumps series, The Addams Family, Ghostbusters, Monster House, Toy Story of Terror and more.
DIY Haunted House. Do your kids like creepy? Stage your own haunted house for them with tips from

an expert

. Don't forget the creepy music!
Try to escape. The Peters Township Public Library in Pennsylvania has created free "escape room" experiences for Hogwarts School of Witchcraft and Wizardry and the Hunger Games. Gather the family and test your skills in this

online challenge

.
Get cooking. Fall foods and treats are ripe with flavor. Bake with pumpkin, apple and caramel flavors to bring the taste and smell of the season into your home.
Try pumpkin carving. Or, for a Florida twist, make a Clementine lantern either by carving into the outer peel of the fruit or drawing jack-o-lantern faces on with a Sharpie marker.
Celebrate with friends. You can celebrate safely and still keep your distance through a drive-by or walk-by costume parade, a Zoom dance party, or a digital movie watch party. 
Get out of the house. Although most community events are canceled, some celebrations are still happening. Find an event near you in

our event listing

.